One high summer, massive famines due to successive harsh weathers caused untold hardships in the
Leung Choi
County. Finally, unable to bear the peasants' protracted sufferings, Chen Zong, acting on his own initiative, threw open the doors of the county's grain reserve for them. For this altruistic but unauthorized deed, he was banished by the court to the frontier, where he subsequently died of an illness, leaving behind an orphaned daughter, Chan Sai Mui. (Yumiko)
Fortunately, Zhu QingTing's father took Mui in as part of the family. Furthermore, the villagers took upon themselves to watch over Mui; whereas the elderly men acted as her godfathers, while the elderly women, her godmothers. And so the years passed happily, as Mui slowly grew into adulthood. She has inherited her deceased father's honorable and chivalrous spirit, and has become an enthusiastic and helpful guardian of the peasants.
Tse Wong Sheung (Steven) (literal translation – Thanks Emperor/Your Majesty) is a romantic; accomplished and very intelligent. He aspires to be an enlightened government official. Conversely, his father, Xie Chong Tin (Ha Yu) (transliteration – Thanks Heaven) is a materialistic rice merchant. As the saying goes, it takes a father to know a son; and indeed Chong Tin knows his son well. To fulfill his son's aspiration, he spared no gold to 'obtain' an agricultural official post for him. And also hired a sharp and astute person, a one Dai Chong Man aka Da Lo Ye to be a troubleshooter for his son.
To avenge her sister, Little Butterfly's death, Flying Goose single-mindedly seeks out Tse Wong Sheung. Little Butterfly was a renowned Hangzhou prostitute. Apparently, she fell in love with someone who claimed to be the young master of a rice store in
Leung Choi
County and called himself, Tse Wong Sheung. When Little Butterfly belatedly found out that she was deceived of money and love by Tse Wong Sheung, she took her own life by drinking poisoned wine. Reading Little Butterfly's journal, Flying Goose discovered Tse Wong Sheung's evil doings. The evidence against Tse Wong Sheung is overwhelming.
Su ZanDong, the newly appointed county official of
Leung Choi
County, sits on this case. However, because of a long-standing grudge between ZanDong and Chung Man, plus the fact that he has been bribed by the real perpetrator, Zan Dong is ready to convict Tse Wong Sheung of the crime. Luckily, because of Chung Man's painstaking peeling apart of the case, strong evidence pointed irrefutably to a different perpetrator, thus, acquitting HuangShang of the crime.
Next, in investigating HongSeoi's (Perfume) murder, Wong Sheung and Chung Man using their wits and sharpness discovered that Perfume is not dead, and that the victim is someone else. Both are terrified by this discovery, hence, are drawn closer to each other.
Later, TongSeoi's father's Tong DaiHoi is murdered. ZanDong's younger brother, Zan Nam is implicated in the murder case. Actually, DaiHoi is accidentally killed by Chu ChingTing. To protect him, Mui covers up for him and takes the blame for the crime. Mui is summarily convicted of it. To prevent Mui from imprisonment, Wong Sheung hastily came up with a fake marriage quick plan. If Mui married into the Tse family, as a family member she will be protected by the jade bowl bestowed by the current emperor to the family. Mui is very touched by Wong Shueng's willingness to stick out his neck for her.
On the side, Chung Man leaves
Leung Choi
to seek out his twin brother, Chung Wu, only to find out that he has passed away. Although saddened, Chung Man decides to take his deceased brother's identity of a corrupt official. As the newly appointed official in
Leung Choi
county, he secretly assists Wong Sheung in his work, and solving unusual cases.
credit: TVB GC2 official website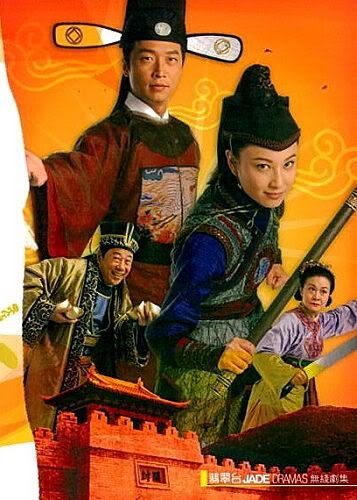 last image credit to a Baidu Steven, source unknown