Promote new song, filmed mini movie for Father, Steven Ma depicts his father-son relationship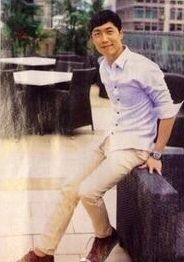 Last year Steven Ma wrote a song for his late mother, who passed away years ago of nasopharyngeal cancer, this year in time for Father's Day he will release his new song, Father Bus (爸士), dedicating it to his father. In conjunction with the song, he will also film a "Father Bus" short film mv thus letting him personally experience his father's 30 odd years of being a KMB bus driver. In the film he fully depicted his father-son relationship as he did for this interview. He candidly admits that although he has great respect and love for his father, in the past he rarely expressed his love towards his introverted father. He says:
"My father's sense of responsibility towards his family, his attentive caring of my mother thru thick and thin until her death deeply impressed me."
Steven hopes that thru his new song and mini movie, people would now pay more attention to father's love, and that they will be less reserve in showing their concerns for their fathers in actions and words alike.
Steven said he "grew up on KMB milk" because his father was a KMB bus driver for thirty odd years until he retired in 1997. When young, Steven often took joyrides on his father's bus# 6D. In his school's Arts and Crafts class whenever the teacher required the class to collect bus tickets to create art posters he always collected the most tickets. He also recalled since he had a family pass, when boarding the bus all he had to do was utter "family" and his fare was waived. He says:
"At that time the inspection was not as stringent. Some classmates behind me copying me also yelled out "family". Thus, a group of us rode the bus free of charge. This is all part of my childhood memories."
The topic of his father never strayed far from buses, thus, Steven's new song, 'Father Bus (爸士)' and its accompanying mini movie mv dedicated to his father is a collaboration between himself and Hong Kong KMB company, with the latter permitting him the use of their bus and the venue for on-site filming. Steven produced the mv and wrote the story premise himself, and in portraying a father who is a bus driver character, Steven got to personally experience his father's bus driver job. As to whether the mv plot is a vestige of his childhood years, he said:
"The contents per se are not the same, but what they expressed is similar. The story tells of a bus driver father who though loves his son very much but because of his busy work schedules neglects to communicate with his son, also he is reserved in verbally expressing his feelings. This is my long held impression of my father."
He recalls his father worked on shifts; for the morning shift he had to wake up by three am; for the night shift he would not be home until past midnight. If Steven wanted to see his father he could not sleep too early. His father whenever home after the night shift would bring home a bottle of soda for him.
"Even though we loved each other dearly we never said it out loud.
" In the mini movie this reserved father-son relationship is conveyed thru the wife's dialog,
"You two love each other to death but care too much about face."
Steven hopes that after watching this mini movie, both fathers and children alike would stop being too reserved with their feelings towards each other; don't wait until there is no more opportunity to express feelings and then regret.
So, was he that way too before?
"When mother was still alive, she was a chronic patient so my family including my father all focused totally on her and inadvertently neglected my father's feelings. It's only in recent years after my mother's passing that our communication with our father improves, and gradually we learn to openly express our concerns for him."
Steven says now he is not as reserved or restrained with his father; when out on the streets he would support his father with his hand or put his arm around his father's shoulder; when having a meal together they would mutually get food for each other; at least every month they would have a family together dinner comprising of one big harmonious family of 16 members. Also on Father's Day every year they make an effort to spend that day with their father.
"Every time I would wrack my brain on what presents to give him because he is not into anything. Sometimes I gave him cash, other times bought him shirts, pants or shoes. Three years ago I got him a red color feather/down (silk robe??) but he did not want to wear it, said he is saving it for me instead."
This year Father's Day Steven will film a mini movie dedicating to his father, undoubtedly it will a very special present indeed.
In action, his expression is 100% , as to verbal expression the most corny sentimental phrase he has ever said to his father was: "We all 'sek' (adore) you". As yet he can't bring himself to say: I love you! (Ngo oi nei!)
Steven's deep concern for his father belies his restrained verbal expression, likewise, his father's deep love for him belies his reservedness towards him. Steven recalls how his father without hesitant offered to withdraw his pension to help him buy a car.
"At the time he knew I just got my driving license, but had no car. He told me he would withdraw his pension for me to buy one. Of course I rejected his offer but his giving to his family and children moved me greatly."
With his father as role model Steven learned to shoulder responsibility,
"No matter how much pressure at home, or how bad the financial situation, or my mother's illness, anything that required his attention he would take care of it without complaining of hardship"
As the only son in the family, when in Form 3 Steven already knew to help out with his father's burden of taking care of their family by working part time while still at school. Now, Steven will take care of stuff at home and will not let his sisters worry too much; he would shoulder the burden all by himself.
His father's attitude in sticking thru thick and thin attitude in love relationship also inspired Steven.
"When mother was in her terminal stage she had difficulty eating so father cut up the food in small pieces for her to eat. He also frequently took her out to have 'dim sum'. I still remember clearly the image of them walking slowly hand in hand towards the restaurant."
His mother has passed away for more than 15 years now but Steven says his father still misses her dearly.
"In the past my father lived with me but he later moved back to our old apartment as he prefers living there since he knows the neighbors and the place holds lots of memories. We have hinted to him numerous times that we wouldn't mind him having a sunset romance but he won't."
His father is now 74 years old, besides his high blood pressure he is in good health and of sound mind, for that Steven is ever grateful. As to whether his father has any expectations of him, Steven says candidly:
"Of course, he wants me to get married but still I've to live my own life my way, as to my career plans he respect whatever I do. I believe in his living years he will see it (Steven getting married), and will be very happy."
credit sandy lau weibo
2014-05-21 12:18
to enlarge pix1 weibo
enlarged pix2 weibo
first posted 5/21/14 8:16 AM