AF #1942
Posted 23 November 2009 - 01:00 AM
source:
takungpao reposted on Baidu steven
11-23-09
Contract renewed, Steven Ma will host a food & beverage tv program.
Yesterday Steven Ma (Ma Zai) was a judge for「爱Fun享歌唱比赛」Love Fun Enjoy Singing Contest held at Olympian City. There was news speculating that Ma Zai has currently become TVB General Manager's, Stephen Chan, newest favorite, and that the latter will arrange numerous programs for him next year. Steven said that prior to his contract renewal in mid-year he had considered leaving the nest, but Mr. Chan, Virginia Lok and Catherine Tsang at different occasion conferred with him, during which time he made known the stuff he would like to do, including a food & beverage tv show because he himself enjoys cooking. Therefore, after his contract renewal the company will duly arrange such a program for him; furthermore, he will also release an album next year.
Ma Zai said laughingly: "Anyway, my real boss is still TVB! Previously I was said to be in Zhan Jie's group and now, in another new group. I find it all very amusing! But regardless, whoever gives me opportunities I'll cherish them all. Actually the company welcomes suggestions from its artistes because they cause no harm to the company. If artistes fare well, company will too. So I don't approve of factions, and in actuality there's no need for them. What's important is doing well in one's own performances."
Dread Adjudicating a Singing Competition.
Having participated in many singing competitions himself, Ma Zai said frankly he dreads being a judge in a singing competition because of the total concentration needed to rate the candidates' performances; moreover, the judging is subjective to personal preference. But since entering the industry, he knew there are criteria to judging such as: intonation, emoting and stage presence etc. He will use them (criteria) to rate the singing, accordingly. As to looks, he does not think them important; what is important is having a beautiful voice, the looks can be "enhanced" later after becoming a singer. As to the music world currently being clogged with off-key singers, Ma Zai said: "Because the new generation singers have fewer opportunities to sing live. Like the saying goes 'practice makes perfect'. So can't blame them. That being said, they need to hone their singing skill because if their live singing is weak, it will chase away a lot of the audiences." Ma Zai asserted that he would never lip-sync, else will cause him to lip un-sync, that is why he insisted on singing live for this year anniversary.
note:
This singing contest was sponsored by HK Labor and Welfare to promote the United Nations "Convention on the Rights of persons with disabilities," as part of public education activities.
credit group pix @
2nd runner up blogger
more pix and 2 vids in the blog
*******************************************************
AF#1943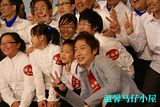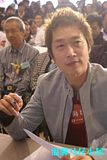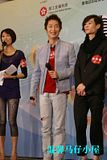 candid shots taken at Fun singing competition by fan @ steven's warmhouse
*****************************************************************