Posted 13 October 2007 - 08:00 AM
2006-03-31 TVB
明星联盟
Summarized intro: Showbiz, like red wine, is all about place of cultivation, year of production, and taste. Likewise, after 13 years of showbiz immersion, Steven has the goods to become a bottle of good wine. But then again, maybe he is just a glass of bland fresh milk?
Rather be taken advantage of than to take advantage 「 寧 人 負 我 , 我 莫 負 人 」 。
Safeguards' rating was a triumph; however, Steven, the person, attracts more news attention than his alter ego, the Big 4th Boss; participation in a charity show, somehow became a sexual indecency scandal; vacation in Taiwan with girlfriend, somehow became Steven got 'straightened' by a superwoman innuendo; to top it all off, his past love relationships are once again dredged up and spun repeatedly through the gossip mill. Some female entertainers might have had welcomed the frequent tabloids' headlines and cover pages, but as a man, Steven must have felt the strain under such unrelenting negativity.
Hu: Do you feel you're like a magnet to controversy?
S: Maybe I handle stuff differently from other artistes. When faced with bad press, I seldom respond. Therefore, people think I'm an easy target, and will try to get more flesh out of me next time. As for the recent news, I really don't know what to say. The captions are so nauseating. (ref: pervert charge - salty pork hands; see pix link) Admittedly, that picture is indeed suggestive. But people got to realize, what artiste would do such a thing in a show that was aired live before millions of viewers. The tabloids want to sensationalize that incident; there's nothing I can do. I admit my dancing technique is weak, the rehearsal was brief, only a few hours or so. Luckily, I had a tight grip on her and didn't drop her at the end of the dance; else, the papers would have had a field day with this caption, "After indecent groping, Steven kills to prevent victim's accusations."
Hu: How do you deal with such negativity?
S: In the past, I brooded; tried finding solace in liquor, also tried locking myself in a room, crying. Over time, I came to believe so long heaven and earth know of my innocence, my conscience is clear. The present day viewers are pretty clear-eyed; they won't continue to misunderstand me forever. Instead of wasting time refuting, why not expend that energy into doing good works so that people, within their limited leisure time, can get to know me better. The tabloids may denigrate me to worth less than a penny; the important thing is, that I'm not.
H: Such high-road attitude. Won't that corrode? (reputation)
S: Used to think so. But, does silence really induce corrosion, not necessarily. If I explain every detail, maybe some people might say, "Oh, Steven really had nothing to do with it." But then again, others would sure to retort, "Steven is so cheap to bad mouth people like that." Won the argument, but lost on conduct; it's all so pointless. My father once said: "Rather I being taken advantage of than to take advantage." Every rebuttal will hurt people. I dare to say this, that I can hold my head up high in front of everybody.
H: The homosexual accusation, was that the most damaging rumor?
S: As of today, there is no one such rumor that can truly hurt me. Frankie (his ex-manager) was my mentor. When I first entered the industry, he signed me up for 7 years, which was later extended to 3 more years. During this period, he developed and took care of me. He is a very attentive man, maybe that's how the misconception started. To me, he was a very good manager. There's no reason to end our contract just because of the rumors. Whatever rumors about me will not influence me. So long, I take responsibility for my work, who I'm with is of no concern to anybody.
Every time, Steven dances, things happened. In 2002, after his Latin dance with Sonija Kwok in Miss Hong Kong Pageant final, rumors spread of their dating, and Steven was fingered as the culprit who spilled the beans on their 3 months dating. The lady accused him of self-promotion. Recently, he was accused of indecent touching on Rain Li's bottom during their dance together. Steven laughs, "I'm not scared to dance. Next time, I will partner Chu Mi Mi, nothing would happen then."
I'm Truly Lucky
Steven is obstinate. Rumor has it that he has a millionaire girlfriend: Shi Hui Ling. But he has made up his mind not to talk about it, and that's that. Steven has been in showbiz for 13 years. He is 35 years old this year, so naturally he has contemplated much on his career path and future. Two years ago, when his contract with Frankie ended, he decided to strike out on his own. Last year, he formally signed a contract with TVB in June. For sure, a big tree can provide better shade. (meaning a big company can provide more opportunities.)
Hu: So in the end, back to TVB?
S: Actually, TVB and I have always had a contract. It's just that the contract then was more flexible; it allowed leeway of outside work and endorsements. When my contract with Frankie ended, I became a free agent. Honestly, money wise, it was really very lucrative. Also, the ability to completely control one's success or failure was very self-satisfying. But, freelancing can also create dire predicaments.
Once, while filming in Meizhou, one night we went to a local disco for an location filming for a scene. When we got there, suddenly there were people holding up banners; somehow it had become my concert. Even selling the admission ticket for 120+ yuan each. Turned out the film producer did not pay rental to the disco management; he tricked the owner into thinking that I would perform on stage to cover the rent; thus, I became the sacrificial lamb. I'm stubborn; I absolutely refused; the people wanted to beat me up. I said, "Go ahead, beat me to death here!"
How did it end? I called up Li Ru En's husband (Ceng Zhi Ming) for help. His factory was in Meizhou. He sent in his factory foreman and called in the public security (police). So for the rest of the filming in Meizhou, I had a police escort. There're things that artistes cannot easily take of. I didn't want to deal with the mountain folks, and it just happened at that time, TVB sought me out. I thought the time was right to sign on.I will now concentrate on filming. My most fervent wish is to perform on stage, no matter how small the role may be, I'm willing. (translator's add- on: Steven got his wish. He will perform the male lead in
王子复仇记
, a Chinese version Hamlet, on stage in Hong Kong Cultural center from Nov 22-25th. Rehearsals have started since Sept 11. His character will recite poetry, sing and swordplay in the show. )
Hu: What is the most important thing you've learned from your years of outside ventures?
S: That I am truly insignificant. In China filming industry, even a minor actor posses great acting skills. He can effortlessly do 8 back springs in a row, then somersault 360 degrees mid-air to land gracefully onto his feet. If it's me, after 3 springs, I would need an understudy. Just in Beijing alone, there are some 200,000 professional thespians. For each role, there are over 2,000 candidates fighting over it. In the past, I took my male lead for granted, but after my eye-opening experience outside, I now know how very lucky I am. Before, I took criticisms hard. A classic example was in Healing Hands 1. Zhen Jie, (TVB upper management) always complained that I would not open my mouth wide to speak the lines. My upper lip would not move. I thought to myself, when I was young, my two upper front teeth were chipped; a deep inverted v separated them. It was only when I was 20 years old that I had them fixed. So all those years, I learned to speak without moving my upper lip. But now I know, understanding and explanations are of no use. The viewers only see the performance; they are not interested in knowing why. Don't expect people to understand you. If you performed poorly, naturally there'll be others to replace you. (H: Steven has since corrected that habit of not moving his upper lip while talking.)
Amending a Regret.
Besides acting, Steven's career also includes book publishing. He grew up in Sham Shui Po-Bak Tin. From young, he was used to seeing discarded used syringes on the back staircase in their building. In the back alleys, the most common sight was the presence of hooligans and prostitutes. His father, a bus driver, was the sole breadwinner in a family of seven. His mother was a long-time nose cancer patient who died a few years back. The materials of his published books drew heavily on his childhood background, which include: suicide, the family of a cancer patient and problem teenagers. Steven has never concealed his humble origin. Maybe to overcome self-inferiority is to face it head on.
Hu: Why book publishing?
S: First, it's purely sentiment. My 1st and 2nd jobs after graduation were in sales in Longman and Ling Ji publishing companies, respectively. Second, in the past, I was often looked down by people, so I wanted to prove my ability. I still remember that time not long after I entered the industry, a friend sent me home. At first, he thought I lived in Kowloon Tong, but when he found out that I lived in Sham Shui Po, he immediately locked all his car doors. He looked disgusted. I thought to myself, "Was that necessary?" Even though Sham Shui Po may be a slum, it's not representative of its people. I've never studied in a university; my academic education is only Form 5 standard, so being a publisher is a sort of psychological compensation.
H: Aren't you worried that people would think you're seeking approbation and fame?
S: Only 2000 odd books are published per run. It's a breakeven, can't even make profits. What fame is there to laud? What compliments are there to fish? How people see me, I don't care.
H: Do you feel that you don't belong to this time period?
S: Yes, showbiz really doesn't suit me. The competition is too fierce. But I've never participated in it. My personality is similar to Cao Zhi; won't compete or exploit, always being bullied. I think if I were born in late Qing dynasty, I would be most happy. I love to read history books. The ending periods of the Qing dynasty were very turbulent. The citizens could put themselves out for their country, spilling hot-red blood. If I were in that generation, I'm certain I would be part of the revolution. But I don't think I would be as radical as the 6 martyrs, or as self-sacrificial as Qiu Jin. I think I would be more like Luxun kind; I would use words and films/stage shows to resist the Japanese.
A Qing Model
Today, seems like I've just taken a class on China's recent history and on Chinese thoughts. Steven loves to read Late Qing dynasty history , and also books by philosopher Tang Jun Yi, especially his
人
生
之
体
验
.If not for the fact that I was solidly stuck in Lan Gui Fan Bar, I would have been deluded by Steven's Qing appearance, thinking myself transported back to the early 20th century. Teacher Tang (Jun Yi) once said: the world mystifyingly doles out random praises and also mystifyingly metes out random hurt. I can relate to that; the entertainment circle is where most of this randomness is fabricated.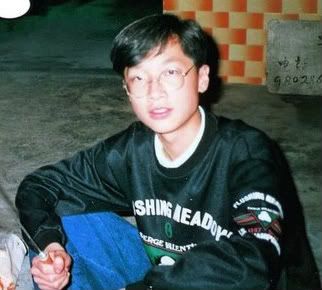 Steven growing up in Ba-Tin was used to the sight of druggies and muggers in his neighborhood. But he was a bespectacled, refined student, himself.
马浚伟成长於白田 ,见惯屋 吸毒、斩人等现象,但他是一名戴金丝眼镜的斯文学生。
[忽然一周 留言集]紅酒鮮奶 馬浚偉
娛 樂 圈 , 像 紅 酒 , 講 產 地 講 年 份 講 味 道 。 電 視 台 , 像 法 國 波 爾 多 , 藝 人 浸 了 十 年 八 年 , 味 道 自 然 出 來 。 馬 浚 偉 入 行 十 三 年 , 有 足 夠 條 件 成 為 一 瓶 上 好 佳 釀 。
初 出 道 時 被 指 貌 似 黎 明 , 已 是 天 生 靚 葡 萄 。 曹 植 、 周 世 顯 、 尚 智 掌 櫃 , 該 是 果 香 、 木 香 與 丹 寧 的 巧 妙 結 合 。 與 郭 羨 妮 的 恩 怨 情 仇 及 前 經 理 人 的 斷 背 情 , 更 是 一 陣 陣 複 雜 得 令 人 難 以 忘 懷 的 餘 香 。

如 果 馬 浚 偉 會 造 新 聞 , 肯 定 可 以 大 寫 特 寫 。 偏 偏 , 他 就 是 不 屑 。 說 他 搞 基 , 他 只 淡 淡 然 拋 下 一 句 : 「 我 從 來 都 直 。 」 說 他 鹹 濕 李 彩 華 , 他 連 解 釋 都 費 事 。 這 瓶 靚 酒 , 原 來 淡 而 無 味 , 不 是 想 像 中 好 喝 。 或 者 , 馬 浚 偉 是 一 瓶 鮮 奶 。
出 身 寒 微 的 他 , 有 如 那 個 骯 髒 的 牛 棚 。 雖 然 名 叫 「 馬 仔 」 , 但 際 遇 頂 多 像 新 界 隻 牛 。 出 書 勸 人 不 要 自 殺 不 要 沉 淪 , 好 比 媽 媽 每 朝 早 苦 口 婆 心 叫 你 喝 鮮 奶 。 但 在 酒 吧 喝 鮮 奶 , 畢 竟 弔 詭 。
正 如 在 娛 樂 圈 濁 流 尋 找 清 泉 , 也 很 吃 力 。 不 過 沒 問 題 , 馬 浚 偉 很 enjoy 。 子 非 魚 , 安 知 魚 之 樂 ? 問 題 是 , 你 喜 歡 這 瓶 「 馬 浚 偉 牌 鮮 奶 」 嗎 ?


寧 人 負 我

《 鐵 血 保 鏢 》 收 視 報 捷 , 但 戲 外 的 馬 浚 偉 比 戲 中 的 大 掌 櫃 更 具 可 觀 性 。 做 慈 善 show , 無 端 端 變 了 「 插 華 陰 」 ; 與 女 友 遊 台 灣 , 又 變 了 「 女 強 人 『 拗 直 』 馬 浚 偉 」 , 連 帶 過 往 的 情 史 也 一 拼 被 數 出 來 。
換 了 別 的 姐 仔 , 這 樣 無 心 插 柳 做 了 幾 日 報 紙 頭 條 和 幾 個 雜 誌 封 面 , 肯 定 暗 暗 偷 笑 。 但 馬 浚 偉 作 為 男 人 , 動 輒 靠 是 非 見 報 , 怎 樣 說 , 都 是 別 扭 。

忽 : 覺 不 覺 得 自 己 特 別 惹 是 非 ?
馬 : 可 能 我 的 處 事 方 式 與 其 他 藝 人 不 同 , 遇 上 負 面 新 聞 , 很 少 回 應 , 別 人 就 會 覺 得 我 「 好 用 」 , 下 次 再 砌 多 幾 成 生 豬 肉 。
最 近 的 新 聞 … … 我 真 的 講 不 出 口 , 字 眼 實 在 太 肉 酸 ( 指 「 插 華 陰 」 ) 。 無 可 否 認 , 張 相 是 的 確 幾 有 想 像 空 間 。 但 大 家 都 明 白 , 一 個 藝 人 , 怎 會 在 一 個 有 幾 百 萬 觀 眾 收 看 的 直 播 節 目 中 鹹 豬 手 ? 傳 媒 要 這 樣 炒 作 , 我 無 辦 法 。
我 承 認 , 自 己 跳 舞 真 的 跳 得 未 夠 好 , 排 練 時 間 很 倉 卒 , 整 part 舞 不 過 練 了 幾 小 時 , 好 在 最 尾 那 個 動 作 捉 得 實 彩 華 , 如 果 把 她 摔 在 台 上 , 報 紙 肯 定 這 樣 寫 : 「 馬 浚 偉 鹹 完 豬 手 , 殺 人 滅 口 ! 」

忽 : 對 這 些 負 面 新 聞 看 得 很 開 ?
馬 : 以 前 會 很 執 着 , 試 過 飲 酒 發 洩 , 也 試 過 躲 在 家 裏 哭 。 久 而 久 之 , 我 相 信 天 知 地 知 , 清 者 自 清 。 現 今 的 觀 眾 很 聰 明 , 不 會 一 世 誤 解 我 。 與 其 花 時 間 解 釋 , 不 如 做 多 些 工 作 讓 大 家 在 有 限 的 空 間 內 認 識 我 。 報 紙 雜 誌 寫 到 我 幾 一 錢 不 值 都 好 , 最 緊 要 我 不 是 真 的 一 錢 不 值 。

忽 : 這 樣 清 高 , 不 覺 得 蝕 底 嗎 ?
馬 : 曾 經 想 過 , 不 解 釋 就 等 如 蝕 底 , 其 實 不 一 定 。 如 果 我 將 每 件 事 的 始 末 都 告 訴 大 家 , 大 家 聽 完 之 後 可 能 會 話 : 「 係 o架 , 真 係 唔 關 馬 浚 偉 事 喎 ! 」 但 之 後 一 定 會 有 人 話 : 「 不 過 阿 馬 浚 偉 都 好 cheap , 咁 樣 去 數 人 … … 」 贏 了 口 舌 , 但 輸 了 風 度 , 好 無 謂 。 父 親 經 常 教 我 , 寧 人 負 我 , 我 莫 負 人 , 每 解 釋 一 次 , 就 有 機 會 傷 害 人 。 我 夠 膽 講 , 現 在 我 對 每 一 個 人 , 我 都 抬 得 起 頭 。

忽 : 話 你 是 同 性 戀 , 是 不 是 最 大 的 傷 害 ?
馬 : 到 目 前 為 止 , 沒 有 那 件 事 是 真 真 正 正 的 傷 害 到 我 。 Frankie ( 前 經 理 人 范 志 榮 ) 對 我 有 知 遇 之 恩 , 我 出 道 他 簽 我 七 年 , 之 後 再 續 約 三 年 , 其 間 一 直 照 顧 和 栽 培 我 。 他 是 一 個 很 細 心 的 人 , 可 能 因 此 外 界 有 所 誤 會 , 但 在 我 而 言 , 他 是 一 個 好 經 理 人 , 沒 理 由 因 為 蜚 短 流 長 而 解 約 。
話 我 直 又 好 , 攣 又 好 , 影 響 不 到 我 。 我 為 我 的 工 作 負 責 任 就 夠 , 跟 誰 一 起 不 需 要 交 代 。

馬 浚 偉 每 次 跳 舞 都 「 出 事 」 , ○ 二 年 與 郭 羨 妮 在 港 姐 總 決 賽 晚 跳 拉 丁 舞 ( 右 圖 ) , 期 後 傳 出 緋 聞 , 馬 浚 偉 指 兩 人 曾 拍 拖 三 個 月 , 女 方 稱 男 方 博 宣 傳 。 早 前 在 《 博 愛 歡 樂 傳 萬 家 》 與 李 彩 華 跳 舞 時 , 被 指 襲 擊 阿 Rain 下 體 ( 圖 ) 。 馬 浚 偉 笑 道 : 「 我 唔 怕 跳 舞 , 下 次 搵 朱 咪 咪 做 partner 實 無 事 啦 ! 」

我 好 幸 運

馬 浚 偉 很 堅 持 , 傳 聞 他 有 個 富 貴 女 友 許 慧 玲 , 他 不 說 就 是 不 說 。
他 入 行 十 三 年 , 今 年 三 十 五 歲 了 , 是 應 該 為 自 己 的 事 業 前 途 緊 。 兩 年 前 , 他 約 滿 Frankie 的 建 星 娛 樂 , 自 己 接 job 向 外 闖 。 去 年 六 月 , 正 式 簽 無 線 為 經 理 人 , 畢 竟 樹 大 好 遮 陰 。

忽 : 始 終 是 回 無 線 着 數 ?
馬 : 其 實 我 跟 無 線 一 直 有 約 , 不 過 之 前 的 合 約 比 較 寬 鬆 , 可 以 出 外 登 台 、 拍 廣 告 。 約 滿 Frankie 之 後 , 自 己 接 job , 老 實 講 , 是 真 真 正 正 的 搵 到 錢 。 自 己 完 全 掌 握 自 己 的 成 敗 得 失 , 是 另 一 種 興 奮 。

但 無 經 理 人 , 又 有 另 一 種 慘 況 。 試 過 一 次 在 梅 州 拍 戲 , 有 晚 去 當 地 一 家 disco 取 景 , 去 到 之 後 忽 然 有 人 拉 起 橫 額 , 無 端 端 變 了 我 的 演 唱 會 , 門 票 還 賣 一 百 二 十 元 一 張 。 原 來 那 個 製 片 無 交 租 給 disco , 還 騙 那 個 老 闆 說 我 會 上 台 唱 歌 補 數 , 把 我 擺 上 枱 。 我 硬 頸 , 打 死 不 唱 , 那 些 人 就 想 打 我 , 我 說 : 「 你 要 不 就 把 我 打 死 在 這 兒 ! 」
最 後 點 收 科 ? 我 打 電 話 給 黎 瑞 恩 老 公 ( 曾 智 明 ) 求 救 , 他 的 廠 房 在 梅 州 , 他 派 了 廠 長 及 call 了 公 安 來 調 停 。 之 後 在 梅 州 拍 戲 , 都 有 公 安 跟 着 我 。
做 藝 人 , 有 些 事 不 可 自 己 出 頭 , 我 又 不 想 跟 那 些 三 山 五 嶽 的 人 打 交 道 , 碰 巧 這 時 無 線 找 我 , 我 覺 得 是 時 候 了 。 未 來 會 主 力 拍 劇 , 最 渴 望 能 夠 試 演 舞 台 劇 , 即 使 是 一 個 小 角 色 , 我 也 願 意 。

忽 : 在 外 打 滾 幾 年 , 體 會 最 深 是 甚 麼 ?
馬 : 自 己 原 來 好 渺 小 。 在 國 內 拍 戲 , 一 個 小 配 角 的 演 技 都 好 勁 , 隨 時 可 以 打 八 個 後 空 翻 再 轉 身 三 百 六 十 度 然 後 好 有 型 地 落 地 , 換 咗 我 , 三 下 就 要 找 替 身 接 。 單 是 在 北 京 , 專 業 演 員 就 有 二 十 萬 , 一 個 角 色 有 二 千 人 爭 。 以 前 以 為 做 男 主 角 是 理 所 當 然 , 出 外 見 識 過 才 知 道 是 自 己 幸 運 。
以 前 很 介 意 別 人 批 評 自 己 , 一 定 死 撐 。 經 典 例 子 是 拍 《 妙 手 仁 心 》 時 , 珍 姐 ( 曾 勵 珍 ) 經 常 鬧 我 不 張 開 口 講 對 白 , 上 唇 永 遠 唔 郁 。 我 心 諗 , 我 幾 歲 時 跌 崩 門 牙 , 中 間 有 條 很 深 的 倒 V 字 , 到 二 十 歲 才 補 番 , 十 幾 年 來 習 慣 唔 郁 上 唇 說 話 。
但 今 時 今 日 , 明 白 到 解 釋 是 無 用 , 觀 眾 只 會 看 結 果 , 不 會 問 前 因 , 不 要 期 望 別 人 體 諒 你 。 你 做 得 差 , 自 然 有 第 二 個 補 上 。


拍 《 鐵 血 保 鏢 》 時 , 馬 浚 偉 說 他 仍 有 「 上 唇 唔 郁 」 的 毛 病 , 不 過 到 最 新 劇 《 滙 通 天 下 》 ( 未 播 映 ) 時 已 完 全 改 掉 。

馬 浚 偉 性 格 像 曹 植 , 不 過 他 強 調 : 「 我 無 曹 植 咁 懦 弱 。 」

彌 補 遺 憾

馬 浚 偉 的 事 業 , 除 了 演 戲 之 外 , 還 有 出 版 。 他 在 深 水 埗 白 田 長 大 , 從 小 就 在 住 所 的 後 樓 梯 見 慣 針 筒 , 落 街 見 得 最 多 的 , 是 蠱 惑 仔 與 妓 女 。 爸 爸 是 九 巴 司 機 , 獨 力 養 一 家 七 口 。 母 親 患 上 鼻 咽 癌 多 年 , 年 前 去 世 。 他 出 版 的 書 , 或 多 或 少 以 自 己 成 長 背 景 為 題 材 , 包 括 自 殺 、 病 人 家 屬 、 青 少 年 問 題 。
馬 浚 偉 從 不 掩 飾 自 己 出 身 寒 微 。 或 許 , 要 克 服 自 卑 的 方 法 , 就 是 面 對 它 。

忽 : 出 書 到 底 為 了 甚 麼 ?
馬 : 一 , 是 情 意 結 , 我 中 學 畢 業 第 一 、 二 份 工 是 在 朗 文 及 齡 記 出 版 社 做 sales 。 二 , 是 以 前 經 常 被 人 睇 小 , 想 做 些 事 證 明 自 己 的 能 力 。
好 記 得 初 出 道 不 久 , 有 次 有 個 朋 友 送 我 回 家 , 初 初 以 為 我 住 九 龍 塘 , 但 當 他 知 道 要 去 深 水 埗 , 立 刻 把 車 門 鎖 上 , 面 上 還 有 鄙 視 之 色 。 我 心 諗 : 「 使 唔 使 呀 ? 」 雖 然 深 水 埗 很 三 教 九 流 , 但 不 代 表 所 有 人 如 是 。 我 沒 有 讀 過 大 學 , 學 歷 只 有 中 五 畢 業 , 做 出 版 , 算 是 心 理 上 的 少 少 補 償 。

忽 : 不 怕 人 以 為 你 沽 名 釣 譽 嗎 ?
馬 : 每 次 只 不 過 出 那 麼 二 千 本 , 算 是 打 個 和 , 又 賺 不 到 錢 , 沽 甚 麼 名 ? 釣 甚 麼 譽 ? 別 人 如 何 看 我 , 一 向 不 介 意 。

忽 : 覺 不 覺 得 自 己 不 屬 於 這 個 年 代 ?
馬 : 是 , 其 實 娛 樂 圈 不 太 適 合 我 , 那 裏 競 爭 很 大 , 但 我 從 來 無 參 與 過 。 我 的 性 格 有 點 像 曹 植 , 不 爭 不 搶 但 經 常 被 人 欺 壓 。 我 想 , 假 如 我 生 長 在 清 末 民 初 , 應 該 最 開 心 。 我 愛 看 歷 史 書 , 清 末 那 段 波 濤 好 震 撼 , 人 民 可 以 為 自 己 國 家 拋 頭 顱 、 灑 熱 血 , 如 我 在 那 年 代 , 一 定 是 革 命 份 子 。
但 我 應 該 沒 有 「 六 君 子 」 那 麼 激 進 , 又 不 會 像 秋 瑾 那 樣 壯 烈 犧 牲 , 我 估 我 會 是 魯 迅 那 批 , 用 文 學 或 戲 劇 去 抗 日 … …


與 前 經 理 人 Frankie 相 交 十 年 , 被 指 「 斷 背 」 , 馬 浚 偉 向 來 懶 理 。

十 八 歲 在 「 朗 文 」 做 sales , 自 始 對 書 本 有 份 情 意 結 , 連 樣 子 也 很 「 書 生 」 。

馬 浚 偉 是 潮 州 人 , 有 五 姊 妹 , 他 是 獨 子 , 自 小 深 得 父 親 教 誨 : 「 寧 人 負 我 , 我 莫 負 人 」 。

清 朝 模 樣

今 天 , 像 上 了 一 堂 中 國 近 代 思 想 與 歷 史 課 。 馬 浚 偉 熟 讀 清 末 歷 史 , 也 酷 愛 近 代 著 名 哲 學 家 唐 君 毅 , 尤 其 對 方 的 《 人 生 之 體 驗 》 。
若 不 是 身 在 蘭 桂 坊 酒 吧 , 看 看 馬 浚 偉 的 清 朝 樣 , 還 以 為 自 己 回 到 二 十 世 紀 初 。 「 唐 ( 君 毅 ) 老 師 說 過 , 世 界 上 總 有 不 明 來 歷 的 讚 美 , 又 有 莫 名 其 妙 的 傷 害 。 我 體 會 好 深 , 娛 樂 圈 , 最 多 無 中 生 有 的 東 西 … … 」
馬 浚 偉 狠 狠 地 叼 着 煙 , 義 憤 填 膺 , 那 種 男 人 的 無 奈 , 迫 人 而 來 。
我 與 馬 浚 偉 無 特 別 交 情 , 也 不 鄙 視 同 性 戀 者 。 但 此 時 此 刻 , 我 相 信 他 不 是 基 佬 。

撰 文 : 林 蕾
攝 影 : 梁 幹 持
協 力 : 陳 兆 基
電 腦 效 果 : 辛 文 傑
場 地 提 供 : C Club
化 妝 : Emme Lee ( be-Beauty )