高層炒大鑊 馬浚偉變磨心
Next Weekly ver: 1011
2009/7/23
Open Warfare between 2 TVB executives (Tsang vs Lok) over Steven Ma, ultimately forcing Stephen Chan's hand to resolve their discord; Stephen supports Steven and his advocate, Catherine Tsang, over Virginia Lok.
It has long ben widely rumored that the two top TVB executives, Virginia Lok and Catherine Tsang, are at odds with each other underneath their cordial appearance. Lately their discord is out in the open for all to see, even to the point of being factious; explicitly taking a stance of it's you or me to the bitter end. As to the cause of this contention, allegedly Ms. Lok had vocally criticized that Ms. Tsang's prized general, Steven Ma's image 'can't enter homes' (interpretation: Steven has no audience appeal or draw) hence, had repeatedly obstructed his contract renewal with TVB. This point of contention caused the two top female executives to publicly open fire at each other, stirring the big wok during a meeting. Stephen Chan, as the outsider, was ultimately forced to resolve their dispute.
Sacrificing a Prized General.
In recent years, there has been a shortage of siu sang and fan da in TVB. Furthermore, many of its artistes upon termination of their contracts, would jump ship onto greener pastures elsewhere, thereby greatly reducing the already increasingly meager human resources in the artistes management sector, TVB's most profitable department. As to the group of artistes who possess rating power and whose contract renewals are pending or upcoming such as: Bowie Lam, Roger Kwok, Steven Ma, Maggie Cheung, Sheren Tang, Wong Hei and Ada Choi; it can be said that TVB will definitely want to retain them. But after a lapse of half year, only Bowie Lam and Roger Kwok have renewed their contracts. This situation had greatly alarmed board member, Mona Fong. As the Director of Artiste Resources, Ms. Lok was responsible for stock replenishment, consequently, her right-hand woman, Manager of Artistes Development, Ms. Chan (
陳佩華
) had to be sacrificed for the flap when she took the blame by resigning last month.
To prevent further outflow of talents, allegedly earlier on, a meeting was held with various TVB departments to discuss the contract renewal crisis. In the meeting, the Director of Series Production, Ms. Catherine Tsang, laid out the contract predicament of her prized general, Steven Ma, whose contract would expire in early July. However, the discussion degenerated into an acrimonious verbal war between the two top executives.
An Insider's Account
"Ms. Lok claimed that Steven Ma's image 'can't enter the homes'; subsequently, both parties couldn't come to an agreement on his contract terms. And then someone quipped: "Can it be that it is only your home that he can't enter?" At the time, the tension was already explosive; Zhan Jie then pointed out that Steven's series have yet to be broadcast including Stars of Love (Cupid Stupid), A Watchdog's Life and Pu Chung Ling. If he leaves, will these 3 series still be aired? Furthermore, Steven has just accepted a new series, 'Links to Temptations'. Zhan Jie felt that not renewing the contract will not insure the company of its interest."
Stephen Chan's Involvement
Steven first entered the entertainment industry as a singer, however, his singing career was less than ideal, then. It was not until he gained Catherine Tsang's appreciation and participated in TVB series such as Files of Justice, Duke of Mt. Deer, Healing Hands, and Perish in the name of love that his popularity soared. In 2005, through Ms. Tsang, Steven signed the management contract with TVB. Thereafter, he performed in many high rating series including Land of Wealth and Safeguards. In the 2006 TVB anniversary ceremony, he received the award for 'The Most Favorite Male Character', thereby successfully becoming TVB front line actor. For this, Ms. Tsang's efforts cannot be underestimated.
The dispute between the higher executives has yet to be resolved, so whether Steven, whose contract has already expired, will stay or not is still up in the air. TVB General Manager, Stephen Chan, was forced to resolve this dispute. He took upon himself to personally negotiate the contract renewal with Steven. Earlier on, Steven went to TVB city to discuss his contract renewal. He said: "Came to discuss the contract. My thanks to Zhan Jie and Mr. Chan for their high regards of me. The negotiation was amiable. But as to the terms in the contract, it is not convenient to disclose."
Stephen Chan said: "I've discussed the contract with Ma Zai. Ma Zai is not a new artiste. He has no problems whatsoever in 'entering audiences' homes'. We have already resolved the terms. At the moment, only waiting for him to return the signed contract to the company." He said there was no discord over this matter as was reported. Stephen said that Ma Zai's series have always brought in steady and good ratings. And that he approves of Steven.
Each With Her Own Mountain Peak.
In TVB, Ms. Lok and Ms. Tsang lead two separate factions; their relationship resembles that of fire and water. Because of their high positions and great power, all tvb siu sang and fan dan, whenever they are on stage to receive their awards, will sure to thank both Ms. Lok and Zhan Jie simultaneously. Their status is on par with each other, therefore, neither one of them can be offended.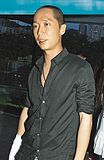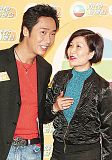 Steven's July series with Fala Chen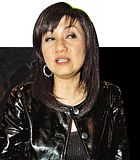 Lok: Steven not allowed into the house. (as in tvb house/family)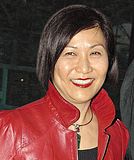 Tsang: Just not your house gua, (right?)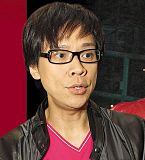 Stephan:Just not your house gua (right?)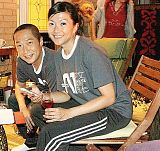 Steven's Canada trip in July was his TVB last side income gig before his contract terminated.
Steven as Louise Lee's daughter, Yip Tse Ching's house guest.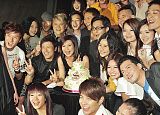 Only Lok's people were invited to her recent birthday party.
Wonder if the pictures below were especially chosen, but compare the 2 groups of selected pictures, esp. that of Raymond, Kevin and Ron.
Lok: Come boys, give Mommie dearest a bear hug and a kiss!
Ron: Let me be bah!
Posted 23 July 2009 - 12:37 AM
exclusive mag scan credit:
steven-ma.org
各為其主
高層炒大鑊 馬浚偉變磨心
2009年07月23日
無綫兩大高層樂易玲、曾勵珍,一直盛傳面和心不和,但近期水火不容關係做到出晒面,甚至分黨分派擺明有你無我。
至於事件起因,有傳樂易玲出言指責曾勵珍頭號愛將馬浚偉形象唔入屋,故多次阻馬仔續約無綫,兩大女高層更借題發揮在會議上公然開火炒大鑊,令身為局外人的陳志雲,被迫介入事件。
愛將祭旗
無綫近年小生花旦青黃不接,加上大部分藝人約滿後決定蟬過別枝向外闖,導致全公司最搵錢的經理人部門,人丁愈來愈單薄。對於一眾有叫座力,而又即將約滿的藝員包括林保怡、郭晉安、馬浚偉、張可頤、鄧萃雯、王喜及蔡少芬等,無綫可以話志在必得,不過擾攘大半年,只有林保怡及郭晉安成功續約,事件更驚動董事方逸華,身為製作資源部總監的樂易玲責無旁貸,其愛將藝員發展科經理陳佩華亦要壯烈犧牲,上月底為事件負責而辭職。
為防人才流失,據知早前無綫多位部門高層開大會研究續約問題,席間,製作部總監曾勵珍為七月初約滿的愛將馬浚偉發聲,最後竟演變成高層罵戰。
「樂小姐話馬浚偉唔入屋,所以傾續約條件未有共識,之後就有人問『係咪淨係入唔到你間屋』,當場嘅火藥味已經好重,珍姐又提出馬浚偉拍咗三套劇未播,包括《占星情緣》、《老友狗狗》同埋《蒲松齡》,如果佢過檔,呢三套劇仲播唔播呢?加上馬浚偉亦接咗套新劇《誘情轉駁》,珍姐覺得唔續約對公司冇保障。」知情者說。
已經約滿的馬浚偉早前返回電視城,更獲陳總親自出馬斟洽續約事宜,攞晒彩。
志雲插手
唱家班出身的馬浚偉,樂壇發展一直未如理想,直至獲曾勵珍賞識加入無綫拍劇,參與《壹號皇庭》、《鹿鼎記》、《妙手仁心》及《帝女花》演出後人氣終於回勇,直到○五年,曾勵珍穿針引線安排馬浚偉簽下經理人合約,之後孭飛演出多套高收視劇集包括《匯通天下》及《鐵血保鏢》,○六年台慶更憑《鐵血保鏢》奪得「我最喜愛男角色」獎,成功彈起成為當家小生,曾勵珍功不可沒。
高層角力戰仍未平息,已約滿的馬浚偉去留未定,無綫總經理陳志雲迫不得已親自出馬,跟馬浚偉傾續約。早前返回電視城斟洽續約的馬浚偉說:「係返嚟傾約,多謝珍姐同陳生對我嘅重視,大家都傾得好好,不過合約嘅細節就唔方便講啦!」