Eta: Before AJCL, I was like oh no not with Linda again; that girl can't act. I had watched her in VOH2 & Always Ready (didn't know it was her first 2 roles and thought her performances were atrociously stiff and unnatural, and her shrill voice did not help either) and I fast forwarded her and Raymond scenes in HOG because I found them so boring. However, I was pleasantly surprised by how well she did in AJCL, and her chemistry with Steven was excellent. Their birthing scene in AJCL is a classic for me. AF 79
Posted 28 April 2008 - 11:47 AM
I first saw Linda in VOH2 and to not mince words, she was terrible, so terrible that to date VOH2 is among my least favorite Steven's series, (In the Realm of Success being the least). Her publicly acclaimed performance in HOG did not change my mind on her acting ability. But, she sure did with her performance in AJCL.

That being said, this series is definitely scripted to make Linda's character shine, starting with the character role to scenes specifically to showcase her acting ability – reminiscent of Bernice's case in Steps. Happy to note that both ladies rose up to the challenge. Bravo!

Undoubtedly, Gaga is the central figure in the storyline, a catalyst; while other characters including Ah On, Hana, and Vicky are written as foils to accentuate her character. Whereas Steven had to share the male lead limelight with Kent's character, Linda totally hogged the female lead limelight all to herself. Although Hana did unexpectedly steal some of her limelight with her surprisingly brilliant performance of a wayward girl.

Using the series theme on the journey of life; the series starts with Gaga's journey colliding with Ah On's on a crossroad. At that point in time, Gaga and her best friend, Hana, were careening down an off beaten path with all its unexpected turns and twists. Conversely, Ah On's road has always been bright and straight, therefore less eventful or exciting, as such Ah On comes across a bland character. At the crossroad, Gaga chooses to get on board the straight road with Ah On. Hana chooses to stay put, all the way to a self-destructive, tragic ending. Vicky (Fala) traveled the same straight road with Ah On up until she chooses to get off on a turn in search of glory, which ultimately leads to tragedy.

Of the ladies, only Gaga is saved because of her choice to walk away from a crooked road onto the straight. Traveling alongside her is Ah On, the ever loving, ever loyal good Samaritan/life companion, and her new found travel companions.

I don't know how a real life Mongkok girl behaves, but to me, Linda's performance as one seemed a bit forced, a bit unnatural; like she's putting on an act rather than becoming the character. I found Elaine's wet girl portrayal to be more natural and believable. Still that's not taking away Linda's great effort. Her crying scenes were well done, and her birth scene was phenomenal.

However, I found her transition from a social outcast to a good citizen a bit too smooth and too swift; although the scenes where Ah On reminds her to sit with her legs close and to mind her language were sweet. I guess Ah On just brings out the best in her; that a little kindness could do that to a love - starved person. (Just like Steven brought out the best from Linda's acting skill.)

Linda has a sweet smile but when not smiling she usually has this pinched, closed look on her face, making her look uptight and stiff. This is very noticeable in VOH2 and HOG but not in this series. And oh yeah, she looks pretty hot in tank tops and those tight shorts, especially with those long legs of hers.

Eta: Like Ah On, I give Linda's performance in AJCL a thumb's up. My other thumb's up is for Ah On. Good job, both of them.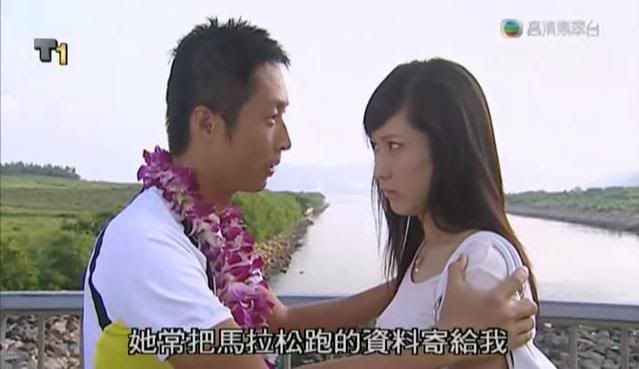 ______________________________
The character of Ah On
Ah On's typical nice boy is very different from others like Ah Hing who is nice but has a rather dull personality who is easily bullied. What I like most, well, actually quite a lot about Ah On is that he is a mature man who possess self-confidence, self-esteem (aside from that lapse of being a faint heart in pursuing a fair lady..I forgive him. lol!) He is very comfortable in his own skin and has strong values and principle, not a man who would be easily swayed by outside influence. Besides he is quick in most things like: a quick learner, quick on his feet, and quick witted.
Ah On vs Gaga
Despite their different personalities, Ah On and Gaga got on like a house on fire especially when they ganged up to tease Fat Boss, earlier on his secret (since exposed) admirer, now persuading him to wear the garish boxer shorts they bought him.
Ah On brings stability to Gaga whose life has been anything but stable, whereas, Gaga brings color and excitement to Ah On's life, which until now was quite staid and filled with responsibility. And Fat Boss is their father figure, more friend than boss.
I like this trio's chemistry. In fact, the chemistry of the cast is pretty good. Linda still overacted but not too bad, overall. And Elaine was good as the pill popping, bimbo friend -- she is just a train wreck waiting to happen right in front of your face...sad to watch...what a waste. Elaine's Hana is definitely portrayed as a foil to Linda's Gaga. One can't help but root for Gaga to choose the right path in life, with the help of good people like Fat Boss and Ah On.