posted 07 February 2010 - 07:45 PM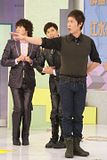 The duo team of Steven Ma and Eunice Lam Yin Nei went on high attack; with Ms. Lam backing him as the counselor in a culture game show, Book of Words, Steven triumphed over his rivals to become the champion of this show, thus earning the title, "King of Orthography".
In the final round, Steven Ma- Eunice Lam team went head to head with Evergreen Mak – Elaine Yiu team. The battle spirit was high in MaLam team plus being fully prepared, they ultimately won a grand prize of over HK500,000 (note: exact total - HK$550,000) in cash and goods.
"I'm very happy to win the prize. More so, I'm very grateful to Ms. Lam, who, despite being sick that day, still came to support me in my battle."
Steven expresses that he has already given away his prizes to friends and relatives. He says: "The cash prize was not much, and the goods were not very suitable for myself."
To prepare for this final round, Steven studied the Chinese literature for more than a month. He laments that only through learning did he realize just how much he lacks in knowledge. He says: "The more books I read, the more I realized that my knowledge standard is not high. Besides the knowledge gained during school days, my grasp of Chinese classics was all basically acquired from the scripts in my ancient drama series; their dialogues were all very cultured. All these years, unwittingly, I'd actually imbibed quite a bit of Chinese culture." "Now my dictionary is constantly by my side, if unsure of tough words, will consult my mute teacher."
----------------------
eta:
definition of orthography
1 : the art of writing words with the proper letters according to standard usage
2 : the representation of the sounds of a language by written or printed symbols
3 : a part of language study that deals with letters and spelling
Why am I not surprised by Steven's win?
Sources: Takungpao & Singpao 2010-2-7
Credit repost: Steven-ma.org
asianfanatics.86