article translated by Akazukin @ asianfanactics.net
italic portion translated by hyn5 @ hyn5-hyn5.blogspot.com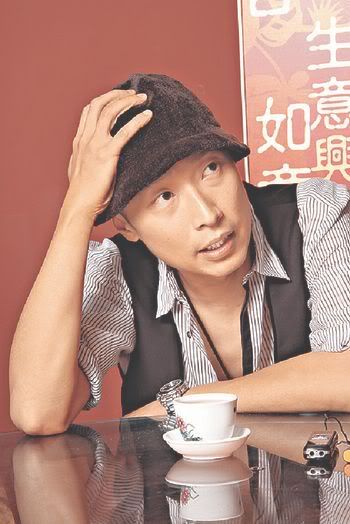 Persevering, 16 years, praised Tavia Yeung for being serious enough
Steven Ma is a rare gem among artistes, hardworking, righteous, keen to learn, persevering when met with difficulties, courageously going forward. It needs to be known, years ago, it's me who brought him into the entertainment circle. At that time, Steven Ma has succeeded in capturing hundreds of thousands young girls' hearts. His debut album is very popular. 16 years have passed, seeing Steven Ma's achievement in TV circle today, I know that I was not wrong. In new series , he acted as a high-ranked official who is both orthodox and unorthodox, always travelling through the choices between love and loyalty. It's rare chance to be able to have a reunion today, Steven Ma could not hold in to tell me about the ending, and also revealed that he hoped to act as a spirited villain and a plan to release a new album. I believe, it will not be long until Steven Ma realised his wish
Collaborating with Steven Ma for short three years in Warner CD, and then leaving individually, he received nurture from Catherine Tsang and Lee Tim Sing in TV circle. "I remember the first time I was auditioning for , at that time Jordan Chan was Wai Siu Bo, I became Hong Hei. I have never tried shaving my head for a Dynasty Ching period series. At that time I was very afraid, moreover this character was acted by Andy Lau before. How would I dare to challenge? My heart was hoping that I will not be chosen, I really thought of rejecting the role. Tim gor knew that I was worried, he then said to me: "Your appearance of course must film ancient drama, completely suitable!" After that, he taught me how to challenge a character, and gave me a lot of encouragement. As a result, I act until now."
After acting as a pair of lovers in , Steven and Tavia Yeung continued their fate again. Will both of them able to make up for the regret of that time, this is one of the focus of the drama. However, in Steven Ma's eyes, Tavia Yeung is a 100% good partner, being able to collaborate with such good partner, he already feels no regret.
In Steven's eyes, Tavia is a very good partner in every sense. "The old Tavia didn't have fire in her innermost feelings, but during the filming of "Sweetness in the Salt", she did some reorganization. Her acting is now different. She is very detailed in filming every scene, and she is in ready position when the cameras start filming. There is an episode where it talks about me catching a virus, so I had to stay in an abandoned temple. She was acting with me through a door way. We couldn't stop crying. That type of "parting forever" feeling was done in one take. After filming that scene, we couldn't help but hug each other. The filming crew were clapping their hands. I am very happy to have met such a great actress. I hope this series will become one of her representative works in her acting career."
Since in 1995 (Duke of Mount Deer was actually aired in 1998, credit to tamaya) until now, Steven Ma has been in TV circle for 14 years. His acting skill becomes more and more mature. In new series , he acted Nip Ji Yuen, an orthodox but unorthodox anti-smuggling official, into life. From the subtle inner feeling to emotional scenes are acted masterfully by him, doesn't pale in comparison with Chai Gau gor at all.
"Nip Ji Yuen is an official who were living in both black and white streams, orthodox and also unorthodox. His inner feeling scenes are very complicated. It can be said that this is the role that I put most efforts and thoughts on it since I entered this industry. This is also the series that I need to fight most often in it. Wanting the actions to be well done, I can only practice diligently. I have tried bringing the sword home before. I also practiced before getting into position to do the actions smoothly, with a substitute and good editing, turning my body around and falling on the ground will also look good. It makes me look like a great martial artist. Actually, one must not be afraid of suffering to film a fighting scene, the result will come out very good. If substitute is often used, the result will be a lot worse. Actually this series does not take the normal route of a Dynasty Ching series, especially the ending, the story is not conventional and very surprising. In short, it's a very good one to watch."
Although he has not released an album for a long time, Steven Ma, who has sang quite a lot of themesongs, also hoped to release an album again. Even though we all know that Hong Kong music industry was not as bold as in the past, as long as not giving up, there must be chances to come across a good song, I believe Steven Ma will still be able to have a bright achievement in the music industry.
"I have tried a lot of different characters. But I really want to act as a villain, a vivid villain. It's very difficult to act as villain. The situation is similar to singing. I still want to release an album, I will practise when I have time, I also installed a karaoke machine at home so I can use the remote to choose song and also to practise singing for my show. I have a great interest in singing. Fortunately, every themesong of my series was sung by me. I hope one day, I will be able to release a themesong collection CD, added with one or two new songs. That will be good."
asianfanatics post 1588
Posted 03 July 2009