Ever since Oct 25, (day before his birthday) Steven tvbblog, with some exceptions, has constantly ranked 1st. Quite a feat considering it had got off the top 50 chart in the past. Kudos to his supporters for putting him back on the chart all the way to the top. Keep up the good work! Reminiscing the first time Steven Ma tvbblog topped the chart.
Posted 29 December 2009 - 04:43 AM
OMG! News flash! ..................Steven fans come in. Steven tvb blog is #1..........
Never thought I would see the day his blog will top the ranking!!! From 10 all the way to the top! Yes!!
Never thought I would be this ecstatic over this....this... ranking....but I am!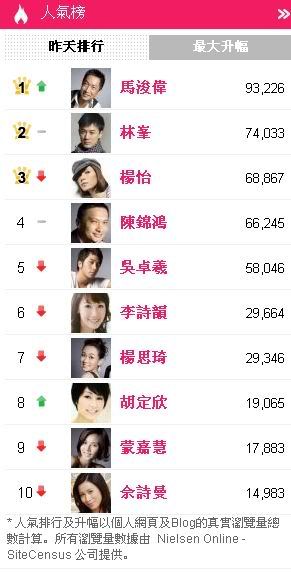 nikki01: Yes, Tamaya, such great news! I could not believe it when the ranking page first flashed up today. I wonder if it has to do with his recent visit to KL, Malaysia. I just got back from a function in a neighbouring country so missed his performance but there were 3-4 pages of news on Steven in one of the major newspapers, including half a page on Dogs, which will broadcast on Astro. Such news, I believe will help in creating interest in him and more website searches and visits. Yesterday's ranking seemed to coincide with the big news on his visit, AJCL and Dogs series which will be broadcast soon.
Tamaya: Btw, Steven tvbblog ranking has dropped to #6. The initial thrill of seeing his tvb ranked #1 is truly memorable.
Strawberry67: OMG, first time i see Steven is no 1, so happy for him. Will leave a message for him.
Tamaya: He held on to the top position for 3 days (or 4?). Then it slid to #6 and now he's #8.
~~~Prior to topping the chart at #1 ~~~
Posted 04 December 2009 - 04:24 AM
Blip.......blip... news flash.......blip Today headlines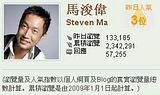 Tamaya: Steven Ma, our main man's tvbblog ranks 3rd! How the heck did that happen I've no idea with over 133,000 hits. But wait look at Yoyo Mung's top rank with over 840,000 hits and Tavia's second with over 249,000 hits. (ETA: 840,000 votes within a day and consistently in the 800,000s for months on end. Obviously someone is making a fool of tvbblog.com polls. lol! Way to go!)
nikki01: Steven's TVBlog ranking has been consistently good for the last 2 weeks. Hope it can sustain. I wonder if this is really due to a real increase in fandom or due to the hard work of some old fans (salute to them).
Tamaya: Funny you should mention that, check out today's ranking, 3rd place! Unbelievable! Don't ask me how it got there. Maybe a sprinkle of fairy dust?
nikk01: Yeah, that's funny! Just as we talked abt this, he rose further to 3rd position. I honestly don't think this is a true measure of the increase in number of people going into this website. Regardless, I am still happy to see that he is in the 3rd position.
Tamaya: About Steven's tvbblog ranking, when I first checked on 10 top box, I did not even think to look at the upper half of the box, so I inadvertently overlooked his name sitting pretty in 3rd. And then I clicked on Baidu, that's when I found out. Seems like I wasn't the only one to overlook his ranking. lol!
nikki01: Slipped 1 position to 4th, with more than 100k hits yesterday. Tamaya, probably, we should accustom ourselves to looking up the top 10 list than the bottom. The truth is most of the time, I don't even bother to check the top 10 list.