Steven's 3 hours interview with Albert Au on RTHK. Reposting past posts on this subject here.
Below are
posts from asianfanatics
Tamaya: Posted 25 July 2010 - 09:52 AM
For those who can tune in, Steven is right now live on RTHK station 2 as guest star in 2000 oldies but goldies. Should be there for at least 3 hours. I think. He sings live with live instrumental accompaniment.
Also, the songs Steven sang were all real time requests so he didn't know what songs he would be singing until then.
He himself picked 1874.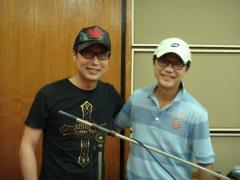 2000 靚歌再重聚 archive will last a year, so archive will be deleted on July 25 2011. Make sure you select the complete program which lasted 3 hours from 21:00 - 00.00 , and don't forget to save the archive onto your computer because they will be deleted on July 25 2011.
part 1
part 2
part 3
rthk archive
Below are the links to the edited 1hr audio collection of his singing.
On baidu: Steven's songs edited to 1 hour
tudou link# 1
tudou link#2

Transcript at the bottom of the post.
~~~
Blurbs
~~~
Steven talks about mom's death on how "Tonight" was playing both times on the radio going to the hospital and leaving the hospital back home. Steven talks about the extreme busy life of an artist, non artists have no idea just how incredibly busy TVB artistes can be and are. So busy they don't even have time to have adequate sleep let alone date.
Flute girl 笛子姑娘
Steven has just finished singing Gigi Leung's Today. He tells the host that the song holds sentimental memory for him. He says his car radio was playing Gigi Leung's "Today" when he was driving to the hospital after his father called him at home from the hospital to inform him of his mom's passing away. Coincidentally, Today was playing too on the car radio when he left hospital for home. And thereafter for the next few years, he always teared up whenever he sang that song, but not anymore. Steven also says Today was one of the first songs he practiced with when he first learned to play the guitar.
Steven has mentioned about Today having a deep meaning for him before in his yahoo blog.
RE: asianfanatics. post 377 in the 1st steven ma thread
Yahoo blog Steven: I remember when Mother passed away in the hospital, after completing the forms, we got into the car; the first song from the radio was Gigi Leung's (梁詠琪) 'Today'. I will now share a section of the song's lyrics that touched me the most:

別了依然相信, 以後有緣再聚, 未曾重遇以前, 要珍惜愛自己,
在最好時刻分離,不要流眼淚, 就承諾在某年, 某一天, 某地點, 再見!

Farewell, still believe, if predestined we'll meet again.
Meanwhile, please take good care of yourself
We parted at the best of times, please don't cry,
let's promise to meet on a certain year, a certain day, a certain place.
Zai Jian.
Note: Scroll to bottom for song lyrics and its English translation
**********************************************************************************************
Steven singing a capella was so good.Also by request, sang Ghost Writer a capella . -- really good! Singing live showcases Steven's strong, powerful and emotional singing. When asked if he will release an album, Steven said it is in the plans. When asked what kind-- new songs vs theme songs. Steven says he prefers to release a cd with all new songs rather than one with themesongs intermixed with a few new ones.
**************************************************************************************************************
AF repost 26 July 2010 - 12:36 PM
Leba:
Hi Tamaya! Thanks for the link to RTHK archive. Really, Steven's singing live is really good! Except for the first song in Mandarin. Haha. His diction made it sound a bit weird. But I like Today. I think he sang with much feeling. The 3rd song, the duet with Albert was very nicely done. His pitching is very accurate ( I can't stand ppl going out of tune). And he could even sing in parts with Albert and still sound in tune. Very well done! His rendition of Jacky Cheung's "Wo Zhen de Shou Shang le" is very good too. Quite a different delivery from Jacky's. Very well-personalised! =) In fact, I think he did better than the live musicians who din play too accurately at some parts, and thus din give his voice the needed support. But in spite of this, Steven still sang very very well! I'm so happy for him! And really enjoyed listening to his singing.
Posted

26 July 2010 - 01:54 PM
Tamaya: Leba, Steven's rendition of 《同桌的你》was ok for me as he sang in a 'false' and flippant tone, it is the rendition 往事只能回味 that sounds really off to me because of his diction. haha! And his a capellas were all very good, his voice came off so strong and masculine. Steven said in his weibo that he sang 19 songs in all. Must be very tiring indeed. Did you listen to the whole 3-hr-program in one go?
Steven sang Today with such gentleness and tenderness, sang with heart for his mom, and of letting go. I love it. The duet with Albert was indeed well done - a very smooth and well-synchronized duet although Albert admitted that he got some of the lyrics wrong.
*************************************************************************************************************
Tamaya: AF reposted

27 July 2010 - 10:04 AM
In all, Steven sang 20 songs, first hour 《同桌的你》 《TODAY》《那天再重聚》 《明年今日》 《我真的受伤了》.《對不起、我愛你》 2nd hour《喜帖街》 《后来》 《生命因爱动听》 《爱是不保留》 《沉默是金》《海鸥》 3rd hour 《1874》 《往事只能回味》 《城里的月光》《心窍》 《无名份的浪漫》 《念亲恩》 《笛子姑娘》 《倦》
Steven asks his fans what songs he sang that night that they like best. I like his singing overall except for 《往事只能回味》. My mom used to played this song when I was young so much so I even learned to sing it and to this day still can sing it. I think this song is just more suited for a female voice just like "月亮代表我的心 too. (The moon represents my heart) I especially like his Today of all the songs but have enjoyed the others immensely too. I was selecting the songs I like best and then I realized I'd picked almost all of them so I guess I should say which of his singing I didn't like as much. Only two: 《同桌的你》 《往事只能回味》. Aside, Steven's tender and melodious singing is especially suited to quiet listening late at night.
Tamaya: Posted

31 July 2010 - 04:35 PM
Leba, have you finished listening to Steven's 2000 rthk songs? What do you think of his rendition of 《往事只能回味》? It was actually quite cute albeit weird with his Cantonese accented diction. And his voice sounds quite different when singing Mandarin songs -- more light and higher pitch. When singing 《往事只能回味》 he could barely contain his laughter. haha! Steven laughs easily. Of all his Mandarin songs, though he sang them all very well I like 后来, 我真的受伤了and 海鸥 more with 海鸥 as my most favorite.
Leba:
I'm listening to the Wang shi zhi neng hui wei....Haha You're right. Some parts sounded a bit hokkien-ish! Haha. It reminded me of the first song which I also felt his diction kind of made it weird. Haha! But I feel his 1874 went a bit flat at some of the higher pitches. Haha. But it's definitely not easy singing live and he's definitely done a good job! I'm gushing over Steven as I hear him now... How I wish I could know him personally! His voice is so real, heartfelt and sincere, so nice, warm and rich, yet gentle, reassuring and soothing, persuasive yet not invasive or imposing. (Except for some weird Mandarin accents.. haha) His voice just goes to your heart!
His a capella rendition of GW theme song was rather well done too though he sounded slightly shaky in the beginning. Heehee. He's so good! It's really hard sounding in pitch while using microphone. I have tried while singing in karaokes. It's hard. Need practice. But I guess Steven's very experienced with the mic that's why he can do it with such ease...in a live performance some more....
I like all the 20 songs he sang. But I enjoyed Today the most! =) Wo zhen de shou shang le... was nice too. Then one of the songs i like from the 3rd hour was Nian qin en. He sang with such ease and sincerity. Overall very good singing. And I would agree with Albert that Steven did a great job singing live. And it's not as if he had the luxury to practise everyday. But he still managed to keep a very beautiful singing voice all these years! =)
Tamaya: If you listen to Steven's interviews on radios and tv back in 2005-2006, his spoken Mandarin has regressed somewhat since then. I too felt that his 1874 was not as good. I think he tried too hard in singing that.
GW is really a difficult song to sing. His laughter is very infectious though sometimes quite cackling too. Lol! Steven seems like a sociable and warm person to be around; a very gracious person.
Also like Albert says, Steven is very passionate about music and that he can sing oldies and newer songs equally well. I recall in a radio interview, the host commented that she was truly amazed at Steven's broad knowledge of songs from 1930's to present – that he could sing snatches of any song from just listening to a few bars of the tune.
Leba:
Wow! That means he's very musical! That's an inborn talent cos it's easy to teach ppl how to read music, but it's difficult to teach them how to sing or play or make music. And since he could catch any song with just a few bars of the tune, that means he's really got a musical ear! And btw, I kinda fell in love with his voice through A Watchdog's tale's themesong. I mean he gave the song an accurate swing with his inflexions and jazzy stresses on some words. I loved that. And that was one of the things that made me like him! =)
Tamaya: Musically inclined no doubt but I think Steven can sing snatches of almost any Chinese song (Mandarin/Cantonese - oldies to recent songs) because he has a deep passion for singing. Plus he is blessed with a good memory. Recall how he can even spout Linda's lines when the latter kept flubbing her lines, in the end, offering to switch his own with her longer line?
****************************************************************************************************
AF repost 25 July 2010 - 07:52 PM
~~~My transcribed excerpt on the program ~~
host: Albert 區 瑞 強
program: 2000 靚歌再重聚
Date: July 25 2010
Time: 9pm-12 am
Opening phase
Hi everybody, I'm Albert Ou Si Kiong, The week passes very fast, and it took a long, long time before this week program comes up again. That's how I see it because if you hope to see this program again it will take a long time. But I am so happy to once again see my two good partners. Lawrence and Vincy. How are you? We were just now busily sorting out the songs, of course they are not just simply my old songs. Because we had waited for a long time for him to appear on our program. Our guest is Ma Chun Wai.

Hello all around….

A: I was very lucky because previously we appeared in the same program. The good thing about it is that I quickly got hold of you. Ask you to show me your diary (appointment book) Wow! So fully packed. But no matter in the middle between the time period of 9-12 pm, no buts, must cross out that section for me. Thank you for coming up.

S: No problem. It has been a long time since I was here. Years ago.

A: Even though you had been here 2 or three times

S Three times

A: 3 times is not that many within a 10 year timeline, that's cos' you are so busy. Like turn on the tv and there's how Ghost Writer. Actually it got done quite long time ago.

S: Last year.

A: Is that considered a long interval – shot last year; aired this year?

S: Not really, because there were lots of post production matter and special effect to attend to.

A: I was pleasantly surprised that besides its good story, that it had garnered such high ratings, another surprised is the theme song, that it wasn't just played when credit rolls but came out as a modern day Steven Ma mv every night. That song is great. There's lots of comments, right?

S: The audience needed time to get use to it because it deferred from TVB usual. For these two series (MOL, GW) TVB came up with a new notion. Also, the GW is an ancient drama but the mv is of modern day. So actually, it's quite daring and I was quite scared too….

A: Anyway, it was a new experiment. Oh, here come someone to congratulate you. Uncle Ray!

S: Hi Uncle Ray. I've attended your concert last year.

A: Steven is going to sing live here. He sits right here at the table with us listening to him sing.

The first song: 《同桌的你》

General chatting on the fact songs with simple lyrics can de-stress the listeners because they can sing along easily like they are driving.

A: Talk about being busy, just exactly how busy an artist can be.

S: Honestly, as an artist, not just myself but other artists too, sometimes just how busy they are, outsiders even our friends can't comprehend. Take for example, when I was shooting GW last year, around July. I recalled at my most fatigue, for 3 nights in a row I

A: didn't get to sleep

S: Not allowed to sleep. From 6 am to 7 pm outdoor scenes. Then filmed from 7:30 pm to the next day 4 am indoor scenes. And then at 6 am

A: So from 4 am to 6 am was for your makeup

S: Sometimes wouldn't even do makeup - just refresh the makeup

A: So no time to go home

S: I would insist on going home to take a shower.

A: Oh, so funny to imagine an ancient drama Steven taking a shower.

S: Haha! That's a scary thought, but I would take off the wig. Because it gets stinky having being worn the whole day. The sweat could almost be wrung out from the wig.

A: I thought with time put into getting the wig on you, with just two hours in between, might as well leave the wig on the head.

S: No, can't do that. If it gets wet, it will shrink. Sometimes might not even have the time to take a shower but I would at least wipe my body.

A: Can't imagine just getting to sleep for an hour or two at home could be such a difficult thing to do.

S: Very tough when shooting a series.

A: So how did you all stand it? What did you use to sustain yourself?

S: Well, when put in such circumstances, people will somehow be able to sustain.
Usually will get sick after the shoot. Just sheer willpower and stamina.

A: can't get sick because the whole studio of people waiting for you

S: that's right, and also other people were tired too. So I treasured the time we spent together.

A: Well, it's all worth with so many audiences' support. Very arduous to shoot a series.

S: But it will come to pass.

A: The next song is Today. It just so happened that day we met at the studio, I also met Gigi. So I thought maybe we can sing her song "Today".
It's odd but when one first sang a folk song, it would usually be Today.

S: When I first learned to play guitar, I played Today too.

A: Yeah, it just needs 7 chords to play that song. So for yourself, why are you sentimental over this song?

S: Can't say it is sentimental more of a kind of feeling.
******************************************************************************************
作詞: 周禮茂
作曲: 陳光榮
編曲: 陳光榮
singer: Gigi Leung
離開 這一刻感覺不會忘記
朋友 抱擁告別明天各自遠飛
難得 並沒傷感依依不捨顧慮
重拾昨天 樂趣一堆
曾經 每一天相約找美麗去
陶醉 美的故事互相勉勵去追
曾經 望著天空一起哭泣至睡
臨別說起 亦笑相對
別了依然相信 以後有緣再聚
未曾重遇以前 要珍惜愛自己
在最好時刻分離不要流眼梡
就承諾在某年 某一天某地點 
再見
Today while the blossoms
Still cling to the vine
I'll taste your strawberries
I'll drink your sweet wine
A million tomorrows
Shall all pass away
Are we forget all the joy
That is ours today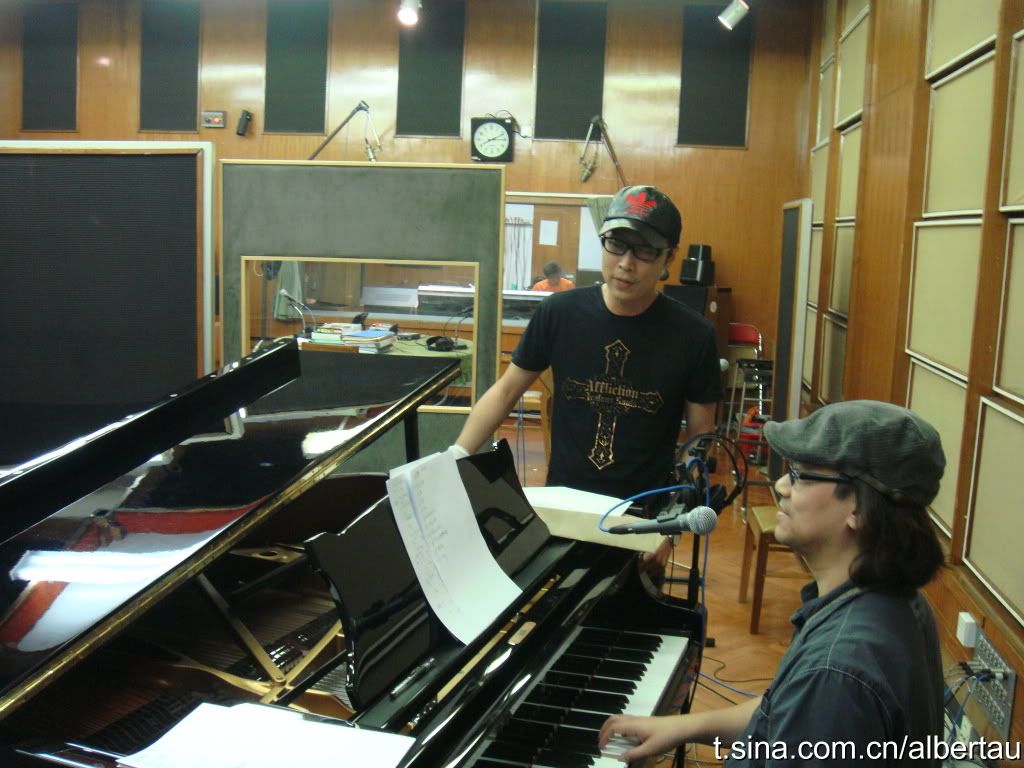 pix source: Albert's blog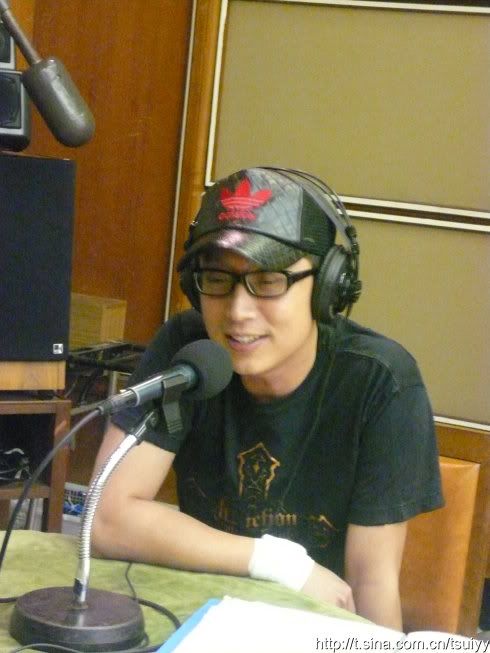 pix source: Tsuiyy.weibo
Tamaya: Goodness me! Steven looks so young and carefree in the above picture with the headphone.