Edited: Wah! There are still people curious about this old scandal? Why? Truly surprise to see this post getting daily hits, and by far has the most hits in the thousands to date. What so fascinating about this old, outdated story?
Updated 2012: Having reconciled in 2010 Steven and Sonija are now close friends in the entertainment circle. source link
gist of scandal: When news broke of Steven and Sonija Kwok's dating, Steven admitted to their dating but Sonija vehemently denied it.
R: Did you and Sonija Kwok ever dated?
Steven: We really were together for 3 months. Did it count as dating? I consider it was but then if it was why then was it so easily refuted?
****************************
R: Did you do something to Ma Zai that might make him misunderstand?
Sonija: He was unhappy so I comforted him, listen to him talk. I didn't know that he would see that as being boyfriend girlfriend. I collaborated with him on a series for 3 months and that constituted as dating for 3 months? That's so very serious lah!
The dating discrepancy started the misunderstanding and got it rolling but what really broke their friendship and caused the rift that lasted 8 years (later half of 2002 - to early 2010) was the mistrust in each other's character. Steven -- that Sonija would think he would actually use her, or anybody else for that matter, for self-promotion. And Sonija-- that Steven would think her so materialistic that she would choose to betray their relationship for career advancement.
Tamaya's opinion: Having gotten know Steven's character through his blog and book writings; print, radio and television interviews, I believe Steven's pov 100%. As to Sonija
reportedly
accusing him of using the scandal for self-promotion, that is simply ridiculous because (per
astrid chan's today's VIP interview of Steven Feb 2011)
Steven, even back when she knew him in 1998 shooting HH1, abhors gossips and gossiping alike, much less create rumors for self-publicity. It galls me that to these days some people still believe Steven would stoop to mongering romantic rumors with Sonija for self-publicity. The way I see it as to why Steven admitted his dating Sonija maybe because he felt that he should be man enough to own up to their relationship as a gesture of respect and commitment to the woman he loved. Steven takes pride in being an honorable man and he was being honorable then in admitting his relationship with Sonija when it was untimely exposed by the press. It maybe Steven was misled by Sonija's behavior or by his own perception into thinking that they were dating thus his insistence on their dating. But I am absolutely sure that the Steven I know will never ever use his friend to promote himself.
Also, who's to say, Sonija might not have flirted affectionately with Steven giving him the wrong impression that they were dating?
Why only point finger at Steven as the rumor monger?
Anyway, from the daily huge hits at this thread despite its tag not even showing on the front page, this 'scandal' still has the power to fascinate, wonder why? But it is all water under the bridge now and good for them for making up and becoming good friends, though honestly, their lost innocence and trust in each other can never be recovered. Let their
story of how a good friendship can be broken by other people's insidious words and whisperings be a lesson to us all. Do not fall prey to rumors and gossips, and let misunderstanding ruin a good relationship.
And in his
2006 interview with Anna Yau
, Steven said this
"Because after work, during my free time, I prefer not to talk shop. I don't like talking about myself. Like, so what film are you making now? So on and so forth. Even at old friends' gatherings, I made it very clear that I'll brook no entertainment related questions. If you are my friends, don't discuss my series, don't ask if she's pretty or not, or if she's a nice person. Etc… If you insist on asking me this kind of questions, I'll leave immediately. I don't relish chatting these things after work."
Even Sonija, angry as she was, did not believe that Steven would use rumors for self-promotion.
Sonija: (softens her tone) He misunderstood me. Earlier there were newspapers saying that he got his status through rumors with one particular leading lady. I even spoke out on his behalf, said he is a front line siu sang, he doesn't need to depend on anybody but he said I betrayed him, hurt him. I swear to heaven I never did that.
(2002年08月20日 14:44 大洋论坛)
ent.163
Dating Steven Ma for half year; Sonija Kwok is "frozen"?
Earlier there were reports on Steven Ma and Sonija Kwok in late night get-togethers alluding they were having an underground love relationship. Although they both denied, but when Ma Zai (Steven Ma) touched Sonija's body, they were not awkward at all for the very reason they have already ignited the love spark, and have secretly dated for half a year. But allegedly TVB executives are bend on separating this pair of 'mandarin ducks', plus Sonija's scandalous exposure during her guest performance in Miss Hong Kong Beauty Pageant; together these two incidents aroused TVB's ire, hence rumors arisen of Sonija subsequent "freeze". The first assignment being pulled out was her leading lady feature in boyfriend's new song "Unexpected Holiday" mtv. It was TVB's move to prevent her and Ma Zai from reappearing as lovers once again.
According to the tabloids, Sonija's exposure scandal during her guest performance in Miss Hong Kong Beauty Pageant had TVB agitated. After the performance, the production department rushed to review the playback tape to ascertain what happened. Plus the relationship between Steven and Sonija was getting intense; so, to play down the "exposure" and their relationship, on the day before the shooting of the mtv, TVB unexpectedly pulled out Sonija and replaced her with Amanda Boll, an unsuccessful 2002 Miss Hong Kong contestant. This stirred up the rumor that the management is considering freezing Sonija as punishment. (translator's note: At the time, Steven was not managed by tvb. He was just a contract tvb artiste.)
Actually, Ma Zai and Sonija first met each other last year at the set of WTLB. This year they met again when filming PITNOL. (yet to air) Therefore they have not known each other for long, and because they were not onscreen lovers, their scenes together were limited. But because they were in the same troupe there were no lack of opportunities to meet. Their onscreen relationship had no development opportunity but in real life their relationship was really good. Earlier, there were already tabloids exposing their late night meetings even though Steven explained that away by saying those were only casual after work get-togethers, but that by itself was already telling of their better than just colleague relationship.
Although Steven's scenes with Sonija in WTLB and PITNOL were less than those with Ada Choi and Charmaine Sheh, respectively, his off screen relationship with Sonija is definitely better than that of Ada and Charmaine.
与马浚伟拍拖半年 郭羡妮遭"雪藏"?
pix of SS latin dance
vid on their latin dance:
vid of ss latin dance on baidu sm
--------------------------------------------------------------------------------
马浚伟曝情变内幕
Steven Ma Exposed the Change in their Relationship
2002-09-18 16:19
Steven Ma and Sonija Kwok, this couple, since been secretly photographed by the press in a late night get together July this year, to their hot dance in Miss Hong Kong Beauty Pageant this August, and later to the rumors of their secret dating for 6 months, up to last week Sonija's insinuation that someone was using her for self-publicity, causing their relationship to do a turnaround nosedive; subsequently, making this secretive affair even more intriguing.
Steven who was vacationing in Canada at the time did not respond to Sonija's insinuation about his alleged self-publicity stunt; he only issued a statement through his manager denying using anybody to move up in status.
This reporter called up Steven over the phone to get the scoop on the change in his relationship with Sonija.
Both Steven and Sonija are TVB's up and coming siu sang and fa dan. The opportunity to meet because of series collaborations is aplenty. Last year fated by a series, they became good friends after wrapping up WTLB. In July of the same year, a late night get together between them was secretly snapped by the paparazzi, and from that moment on, their close relationship was inadvertently exposed.
*欲加之罪何患无词
(see footnote)
Just when the outside world thought they had a hot romance going, Sonija unexpectedly last week insinuated to the press that she had been used by someone, thus dumping a bucket of cold water over this simmering romance. Steven was at the time vacationing in Canada after finishing his guest star assignment in Miss New York Beauty Pageant when the news about his using people to move up in position hit the stands.
When asked about the reports, Steven said with disappointment: "欲加之罪,何患无词!* . (see idiom in FN) Anybody who has been betrayed or hurt by another will feel disappointed."
When the reporter probes further to ask if he feels betrayed by someone, he says instead: "Don't wish to talk about it." Sonija has insinuated that every time she met up with Steven, reporters were always onto them making she suspects that someone was "tipping off " the press
. And that barb was directed at Steven. As to this accusation, Steven only says: "Words are inadequate. Hope you (reporters) will vindicate me. "
Sad and hurt (感到难过和痛心 )
As to being accused of 'tipping off' the press, Steven feels that it has greatly hurt his healthy image. He says:
"My principle in life is to do right by myself, and when I do right by myself and do right by my family, there's no need for embarrassment. I hope people around me will also cherish themselves."
Deciphering Steven's words, he is alluding that someone does not cherish his/her friends. Towards reporter's persistent probing, he counters:
"I've already made my statements. Don't wish to say more. Only that truth will prevail. The biggest damage of the report is not its news contents but the story behind it. I've always respected my friends and hope my friends respect me too. A friend whom I trusted and respected when faced with career and other self-interest beneficial predicament chose instead to hurt me; that's what saddens and pains me the most."
Being Wrongly Accused Feels Terrible.
(被屈好难受)
Actually since early August, there have had been reports of Steven and Sonija secretly dating for 6 months. At the time, the reporters received reliable information which described how they first met in the series 'Where the Legend Begins' (WTLB) to this year filming 'Perish in the Name of Love' (PITNOL) whereby they became 'lou yao' (close friends); plus their intimacy during the WTLB promotion behaving like couple in love, which all led to employees suspecting that they had been secretly dating for 6 months.
When asked about Sonija's suspicion, even as to insinuate to the press that he was using the rumors to move up in status, Steven says:
"I feel it's regrettable. The feeling of being wrongly accused is terrible. I don't want to comment anymore."
Over the long distance phone interview, Steven Ma has repeatedly expressed his disinclination to talk about the situation. His conversation was constantly interspersed with sighs; regrets deeply felt, strong feelings even more so. Actually, Steven has been in the industry for 10 years, therefore well-versed in the art of dealing with people. He has also concluded that a high profile recrimination will be of no help to either party. Moreover, they will have many opportunities in the future to cross path again, so with that in mind, leaving it well alone seems to be the best solution.  No wonder during his interview, his words were hesitant and his tone filled with regrets.  
Will not be awkward when meet again.
(再见面不尴尬)
Presently vacationing in Canada, Steven says his mood is not affected by the incident, and does not plan to return to Hong Kong early. As to whether he will feel awkward at meeting Sonija again, he says unhesitatingly: "No!"
Apparently, Steven and Sonija will not be meeting each other any time soon because Steven will be busying recording songs for his new album. In mid September he will be in Taiwan promoting WTLB, going with him will Ada Choi, no Sonija Kwok.
Charmaine Sheh Supports Ma Zai. 佘诗曼撑马仔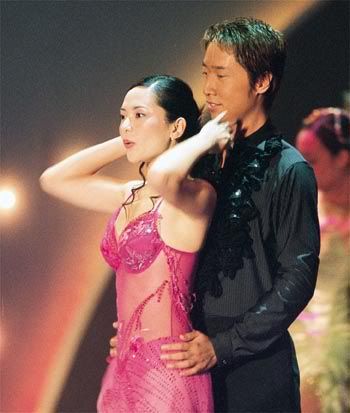 In PITNOL, Steven has the most scenes with Charmaine. Charmaine was at an award ceremony a few days ago and when asked about Steven's and Sonija's contradictory stories, Charmaine said: I've no idea what's going on. But I was happy collaborating with Steven." (note: she later changed her tone and supported sonija)
As to the leading lady of this incident, Sonija Kwo, the reporter had contacted her but at the time of this report submission had yet to respond.
footnote: Idiom: If you want to condemn sb, don't worry about the pretext; one can always trump up a charge against sb; Give a dog a bad name, then hang him
news article source
---------------------------------
After the above interview, Steven deflected all reporters' questions with "no comments". Until finally he broke his silence with the following interview because during the interval, Sonija continued to badmouth him. In fact, her derisive remarks made Steven a laughing stock in the HK entertainment industry. There were snickers and snide remarks about his one sided love affair. His alleged crush on Ada Choi was revisited and hyped up in conjunction with his 'one-side love affair with Sonija. This kind of situation went on from 2002 end of August to the time he left TVB for China in mid 2003. Tough time for Steven.
---------------------------------------------------------------------------------
----------------------------------------------------------------------------------------
*撬马脚 马浚伟(《忽然一周》#
401)
Horse's Hooves Pried Open – Steven Ma 2003-4-4
reporter: 粱紫玲
Popular saying goes: A wrong move and you'll lose all your pieces. Unfortunately, on Steven's chessboard, there were many wrong moves. His association with Sonija not only was not reciprocated but he got accused by the other party of using self publicity to move up in status. Like a horse whose hooves were pried out by someone, Steven is at a stalemate, blocked in, can only hold position and endure the beatings.
Re-examing the root of the incident, Steven says because he believes people too easily, especially women.
"My family has 4 sisters; I'm the only son. From young I've learnt to respect and protect females. So even if framed by others, as a man I will not counter attack."
Like a saint with an extra halo atop his head, Steven Ma this horse, however, is indecisive in his moves…
Mortal affairs are like chess, people addressed Steven as Ma Zai, and he himself sometimes feels that he is truly only a horse piece on a chessboard. But he continues to try to anticipate how the chess game was being played, and not be just a pawn controlled by other chess players. But unfortunately, these two roles in his life are often interchangeable.
Steven was born into a family of 7 members. Father is a former No: 9 bus driver. His mother contacted nose cancer when he was around 12 years old. Through the years he had watched his beloved mother's life wasting away before his very eyes. As the only son in the family, Ma Zai felt powerless to do anything.
S: From the onset of the disease to death all these years I could only help mother to invite gung yam (Goddess of Mercy) into the house to protect her. Towards my sisters, I have the duty to protect them. Besides my father, my home is filled with females. So I feel I especially need to exude a man's conduct even towards a woman who once betrayed me. "
After her rumors with Steven Ma, Sonija Kwok suddenly switched to Deric Wan's embrace, and often high profile flaunting their intimacy in public. It is like her and Steven's relationship has never happened. Moreover, she has never admitted dating Steven.
R: Did you and Sonija Kwok ever dated?
S: We really were together for 3 months. Did it count as dating? I consider it was but then if it was why then was it so easily refuted? When I was young my father always said this: "We Chiew Chow people have a saying, rather others wronged us than we wronged them, especially towards women." I don't wish to hear bashing of woman coming out of my mouth."
Last year September there was news reporting Sonija's dissatisfaction over Steven using their rumors for self-publicity. Even to publicly express that she would never meet up with him again. And moreover, swore to demarcate a boundary between her and Steven. At the time Steven was in Canada, through his manager he issued a statement: "What saddens and hurts me the most is that a trusted and respected friend (Sonija) when faced with career and self-interest beneficial predicament chose instead to hurt me."
S: This is not the first I was betrayed by a woman, only that this time the cut is deeper. In this incident, what hurts me is not only that I was betrayed but that my father and my whole family were likewise betrayed too. I am the kind of person who once having identified somebody as friend will completely open-up to embrace her as friends. Because of me, my father and sisters looked upon this friend as part of the family, and invited her to dinner in our house. My father even personally cooked up a feast to welcome our guest. But this friend actually gave the photos that she took of us having dinner with her own camera, those photos that even I don't have, to the tabloids.
R: Did Sonija ever explain to you?
S: At the time I was in Canada. Suddenly one night I received a phone call. The other party said: "Some reporter found out about me. Forced me to admit it. Seems to know everything. Even has a photo of me." A budding love relationship of 3 months is not ripe for public revelation. I was curious on how the press found out about stuff that only us knew about. She added: "They said if you're not willing to publicly disclose then you'll be bashed." Either disclose publicly or be bashed. This kind of threatening proposition angered me. And soon after that weekly magazine ran an article with "Steven Ma uses women to move up in status." as topic.
R: Painful?
S: There's this saying " 打 落 门 牙 和 血 吞 " (sucking in busted front teeth together with their blood) that is used to describe the feeling of a person being attacked. Can't defend self publicly so can only with a sound of "gu luk" swallowed the bloodied teeth into the stomach. Pain internalized. From young my parents taught me to not squabble with women; maybe some people thought I don't have much of a temper but don't think I don't have a threshold. I do have a threshold just that my threshold is higher than most people's, that's all.
R: Do you still consider Sonija as friend? If had a chance to collaborate then how?
S: (shaking head) Some people if meet again, can never be friends anymore. I'm an actor of course should have an actor's ethics. If had to collaborate then I will accept, otherwise best to avoid.
SARS is laying siege on Hong Kong. The SARS crisis during Steven's interview was not as serious as it is now. At least then Amoy Gardens Block E was not quarantined. But Ma Zai has already taken precautions, spending $HK1000 to buy forty N95 surgical masks to distribute to friends and colleagues. When the interview was done, he even personally gave to this reporter two masks, and even had them carefully put inside clean plastic bag. Towards SARS, Ma Zai has taken preventive actions, but if he were to meet another woman who quickens his heartbeat, he says he would still let down his guards to plunge headlong into it.
S:"I believe that one day I will find someone who genuinely loves me. When dating, how much can you worry, right?"
Wonder which is scarier to Steven, women or SARS?
original article source
-----------------------------------------------------
The above article apparently was the last straw to Sonija.
The Last Straw, Sonija Kwok Publicly Mocks Steven Ma.
2003-4-14
Steven Ma earlier revealed that he and Sonija once dated, however, Sonija promptly denied. Sonija found Ma Zai's insistence that it was true intolerable. Last night, she publicly mocked him for using her to move up in status, and derisively retorted: "Just filmed series for 3 months and call it dating for 3 months, so serious!" Even more so, she does not appreciate Steven Ma this kind of friend, their relationship from now on is hereby officially severed.
The discord between Sonija Kwok and Steven Ma, the co-stars from the series, PITNOL continues to escalate. Recently, during his interview, Ma Zai revealed that he and Sonija had dated for three months but the female adamantly denied, and retorted that even if beaten to death she will not admit it! But Ma Zai insisted that it was the truth. Sonija who attended a social function last night finally had had enough, and departing from her usual conduct, she publicly lambasted Ma Zai at the same time drew a clear boundary against him.
R: Steven insists that you two dated?
So: (unhappy) I've already responded. Why did this person keep on saying this? I don't want to analyze, don't want to talk. I have my own life. His problems have nothing to do with me. I don't want him to use my name to say anything.
R: Do you feel that he use you to publicize himself?
So: I don't admit, don't want to talk.
R: Can you two still remain friends?
So: (firm tone) No! This incident let me see clearly to be careful in choosing friends.
R: Do you need to explain this incident to your boyfriend?
So: No need to. When he (bf) read the newspapers he finds it unbelievable. What he (Steven) said is too ridiculous. This person truly disappointed me.
R: Would you mind to collaborate with him again?
So: (helpless) I'll respect the company's arrangement . No matter how helpless, will accept.
R: When meet again will show an unhappy face?
So: I hope to maintain my usual proper demeanor
R: Did you and Ma Zai communicate over this?
So: (Firm) No!
R: Have you thought about the real reason for this discord?
So: (softens her tone) He misunderstood me. Earlier there were newspapers saying that he got his status through one particular leading lady. I even spoke out on his behalf, said he is a front line xiu sang, he doesn't need to depend on anybody but he said I betrayed him, hurt him. I swear to heaven I never did that. After that he issued a statement. I felt very helpless. So actually who hurts who, nobody knows. (getting agitated) I've always wanted to maintain a friendly working relationship with him but I didn't imagine that to protect his image, he would say those things to hurt me. That really disappointed me.
R: Did this incident make you unhappy?
So: I guess there are all kinds of different people in the world. This really opened my eyes.
R: Did your boyfriend try to comfort you?
So: (Smile sweetly) Boyfriend (Deric Wan) is always good to me. I wish to say what's inside my heart. From the very beginning I didn't want it to be like this. We are all colleagues, no need to turn it into this because of the tabloids. Feel helpless that he believes what other people said. There's nothing I could do.
R: Is it because you feel there's someone instigating this?
So: I don't want to analyze. I don't want to talk about it anymore. I only knew about it when someone told me. Other people don't know, other people may think that I did something wrong.
R: Did you do something to Ma Zai that might make him misunderstand?
So: He was unhappy so I comforted him, listen to him talk. I didn't know that he would see that as being boyfriend girlfriend. I collaborated with him on a series for 3 months, and that constituted as dating for 3 months? That's so very serious!
---------------------------------------
Reposted from AF 2010 during 7 Days in Life filming period:
Must say it was rather tough for me to translate the last three articles. Glad I wasn't his fan then. If it were up to Steven fans we would have much rather Steven kept a wide berth from Sonija, misunderstandings or not. Her words were unwarrantably razor sharp as she continuously ridiculed Steven, whereas Steven was restrained in his words, (from the articles I read, his responses were mostly no comments). Giving a benefit of reasonable doubt to Sonija, maybe in her mind Steven and she were not dating, but still there was no reason for her to ridicule and mock him in the public. It is tough for me to overcome my suspicion of Sonija. How many honorable men, some righteous heroes no less, could get past a beautiful woman's wiles and guiles, and Steven is only a regular man, honorable though he is just as he was 10 years ago.
credit: steven ma's warm house for original articles
link to my extended post on SS scandal
link to 2002 Steven-Sonija's hot latin dance