忽然一周
第
725
期
]
眾星齊賀父親節
:
馬浚偉
情書表心意
source: [忽然一周 第725期]
2009 6/19
Steven Ma: Left Notes to Express Feelings
To Steven, father is a responsible good man, who takes care of his family and who has always put his family members before himself. "
After I got my driver's license, I'd been borrowing cars from other people to use. My retired father, after years of being a KMB bus driver, incredibly told me he would withdraw his pension for me to buy my first car. Even though in the end I did not take it, but his gesture had moved me deeply. That he was willing to give me his hard earned money accumulated through years of toils; he truly loved me."
Ma Zai, still living with his father, (sic. An updated report says otherwise) has resorted to expressing feelings with each other through written notes.
"Father is a very obstinate man of principles; introverted and taciturn. I resemble this side of him. We seldom have heart to heart talks. I recall 10 years ago, when mother passed away, we were all heartbroken. I wanted to comfort him but didn't know how. So I wrote him a letter. I told him even though Mom is gone, but we, (3 elder sisters and 1 younger sister) will continue to love him, will continue to be filial to him, and will continue to take care of him. I told him not to worry. I lay the letter on the table, which he took the next day. Thereafter, whenever I wish to express my feelings or too busy to talk to him, I will leave him a letter or a note."
Taking this opportunity, Ma Zai also wishes to express this inner thought to his father:
"Mommy has passed away for many years now, if you wish to find a life partner to share the rest of your life with, I can accept it. Whatever gives you happiness, I will support."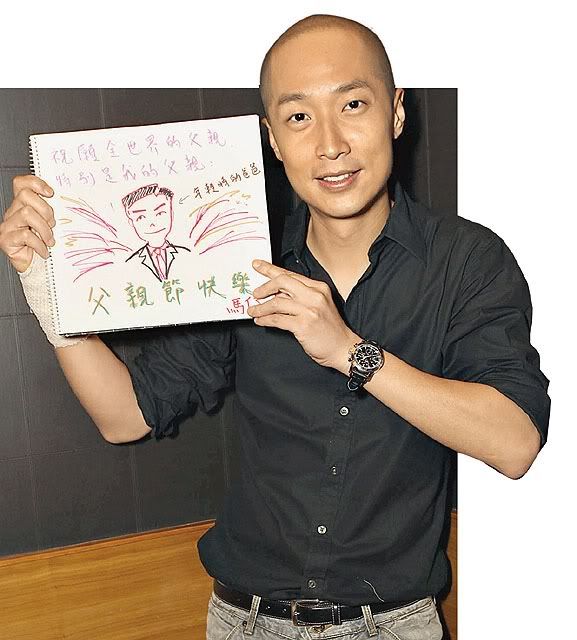 asianfanatics 1599
Posted 05 July 2009 - 05:59 PM
steven-ma.org