Below is my 1st AF post on how I became a SM fan
Self-intro AF 368 4/14/2007
I am a recent fan of Steven's, well, since this summer. (Prior to that I had only watched these few tvb series:The Condor Heroes, The Condor's Lovers, The Cadets (1), and Duke of Mt. Deer 1984 because I wasn't that fond of watching lengthy tv series to start with, plus tvb series were not readily available at where I lived.) Last year, I happened to watch Healing Hands1 (friend's dvd) and, although his Dr. Joe left a deep impression on me at that time, it soon faded. Then this summer for want of something to do, I decided to download some TVB series to watch. Steven's name was as good as any, so I browsed Youtube and found Better Halves. Just like that I became his fan. I turned to Tudou for more of his series. Since then, I have watched all his series made since 1998, while some series are better than others, I've enjoyed every one of his character portrayals. Of his series, Better Halves remains my favorite followed by "On the Track or Off",* "Where the Legend Begins" and "Safeguards". I've also enjoyed his latest "Steps" series. Of all his characters, appearance wise, Kangxi is the most memorable, but among my favorite characters, Quan Jia Fu & Gan Yuan are the most loved, Cao Zhi & Zhou Shi Xian are the most romantic while Shang Zhi is the most manly, and of course, Dr. Joe started it all. To my delight, Steven not only acts well, but also sings well, writes well and dances well too.

Since becoming his fan, I did some research on him. Discriminately separating the chaff from the grain, I read all reports on him with a grain of salt, but paid special attention to his tv and print interviews and excerpts of his published books. I like what I saw and heard. So when time permits, I will translate some good articles/reports on him so that his Chinese illiterate fans can also get a better sense of the man he is.

Addendum AF1054 Posted 04 March 2009 - 09:54 AM:
I keep switching between BH and OTOO as my most favorite Steven's series, couldn't make up my mind, even now.

WTBL is not far behind, just that it's a tragedy loses points for me. Now that I think of it, that I remain his staunch fan is also in part due to his writings. His memoir and his candid sharing of his thoughts on his blogs touched me. I like listening to his live interviews too. But of course, I love watching his series best. All in all, I think Steven is a very gracious man - in his spoken and written words, in his expressions and actions; grace, which is greatly lacking in this world draws me to him.
---- eta 2013 additions: below are old comments reposted from AF----
Posted 22 April 2010 - 03:06 PM
asianfanatics 295
Sneezer: Tamaya - you are truly a die die hard fanz. Steven would be very glad to know he has a fan like you.
Tamaya: I'm nothing compare to his truly diehard fans such as those who have supported him since they first became smitten by his Kangxi in the 1998 Domd, to his numerous webmasters/webmistresses, to those who traveled far to attend his fans gatherings and public/social functions, or spent day and night clicking on his tvbblog to raise his blog ranking. etc. All I did was translate his news reports and such. I respect people's writings, hence am very conscientious in all my translations, but admittedly I am extra meticulous when it comes to translating Steven's writings because I don't want to unknowingly put words into his mouth, thus inadvertently changing the meaning or tone of his writings. However, no matter how precise a translation maybe it cannot completely capture the beauty of the original writing, something is always lost in translation.
I recall when I first got interested in Steven I voraciously browsed all his existing fansites then, scrolling through its news archives page by page. (One of the older domains has since closed, all the more pity because it had lots of 'old' pictures and news reports not to mention fans posting.) I was fascinated by Steven's back news that made interesting reading to while away the cold nights of winter for me. This man definitely has had lots of ups and downs in his life. Steven is a man with stories to tell. More amazing to me is that he seems to come up unscathed from his misfortunes and negative press. The saying goes: If it doesn't kill you, it makes you stronger and that seems to hold true for Steven.
I like analyzing literature characters and historical figures. Steven is a person of contrasts – he has a boyish look but possesses a deep, booming masculine voice. His looks changes constantly: in some pictures he looks youthful and boyish; in others, he looks haggard and older. His eyes sometimes single lidded, other times double lidded. His eye bags come and go. On screen he always presents a sunny and open personality; in writings, he shows a more somber personality. On tv he is always surrounded by people or entertaining others; but in his writing he seems so solitary and so private, trying hard to look for equilibrium in his life. To me, Steven is most true to himself when he is writing. In his recent book, he left a piece of himself in it, generously inviting his readers to get to know him better.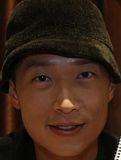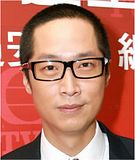 Photos taken a few months apart.
A Steven fan once wrote this opening statement in her essay to this effect:
I wish I wasn't a Steven Ma fan. If only I were a Moses Chan fan, or a Bobby fan, or (??) whose career paths are smoother sailing than Steven Ma's, so that I would not have to go through such turbulence in my own life."
Lol! But I like being a Steven Ma fan because I find him fascinating as actor and as man, as well as someone I can look up to as role model in the way he lives his life. That he likes to write and love Chinese history is a plus in my eye.
Besides my fascination with Steven, when browsing old posts I was also impressed by some of his fans' good writing skills. Though I may sometimes disagree with what they wrote I enjoyed reading their thoughtful essays on Steven and their in depth analysis of his series. (But his recent weibo fangirls are a total different breed from those in the past. ) Though most of his fans of yesteryear now seldom post, their words remain online for latter fans to re-discover, fans like me. The old fans' passions for Steven and his series may have waned substantially if not gone, but t their past passion stays forever in their posted words. And this vestige of their passion has the ability to kindle the passion in their readers for Steven. Occasionally, an old fan would pop in to leave a line or two commenting that real life has prevented her from posting like she used to, nevertheless her support for Steven has not changed. That got me thinking, one day reality would prevent me from posting. Before that happens, I want to pass on my passion for Steven and his work to fans that will come later, fans like you all in here.
*****************************************************************
eta: reposting some of my AF posts on Steven
AF#1222 Posted 21 March 2009 - 11:45 PM
Actually, most of his fans, including myself, were attracted by his looks first than his acting. We had 眼缘. Among his mainland fans, it was Xiao Xuan Zi who first bewitched them with his angelic look and flawless complexion. To baidu netizens (not just sm fans), Steven's Kangxi is arguably their most favorite domd kangxi of all times. His characters' good looks in WTLB and Pitnol only deepened his enchantment on them. His acting, truth be told, was secondary to his looks. Until BH and Safeguards.
****
AF#1232 link Posted 22 March 2009 - 10:53 PM
Going out on a limb, most AF posters are not Steven's loyal fans, more like people who appreciate him as a competent actor or as an acting partner to their idols. A quick glance at baidu threads will tell you what his baidu fans most love about him, same in Steven-ma.org. For myself, Dr. Joe caught my attention because he was so adorable, and so 'clean' and his natural acting was a great bonus. I totally enjoyed his chemistry with Nick Cheung. Now HH1 cast acted well, some maybe even better than him, but it's him that left the deepest impression in me because I liked his looks.
*****************************************************************
AF post#1218 link 20 March 2009 - 09:32 PM
Steven's Warm House is one of the earlier Steven fansites that is still operating. Therefore, it is an excellent source of Steven's old news, old pictures and screencaps on his earlier series. Incidentally, it also has the most firsthand reports of Steven-fans encounters/gatherings.
*****************************************************************