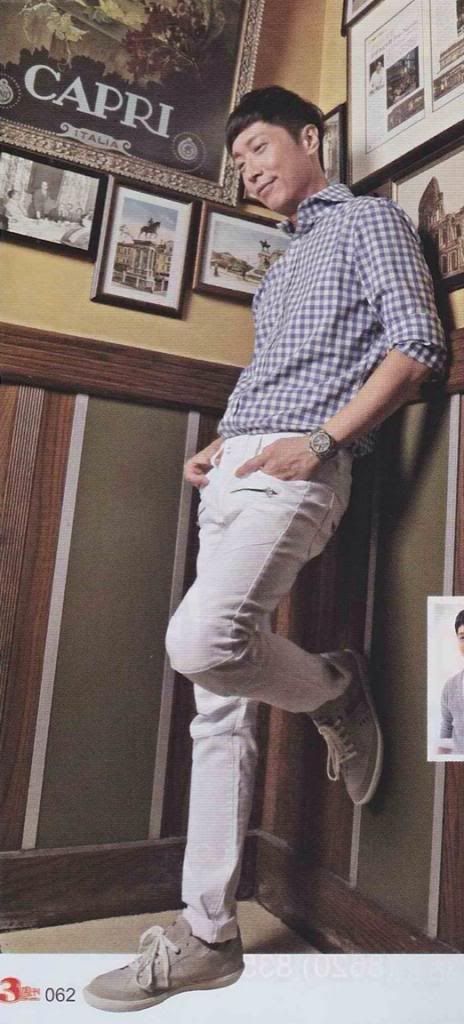 3 Weekly vol 766 Stars Talk - Steven Ma: My Happy Period《3週刊》766期 留星語 @馬浚偉 我的快樂時代
Steven Ma asserts that only now does he truly know how to enjoy happiness; only now can he do whatever he wants to do. He has been in the industry for 20 years; only now is the period of happiness for him.
"I've been in the industry for 20 years, only now can I decide on what I actually want to do, and not because I had to make a living. Thus, I'm very happy now. For instance, like what series to film, if the character is a 100% goody-two shoes (guai guai jai), or someone so nice he's almost a saint, I'll certainly reject the offer. Just within this year I guess I've declined ten or more this kind of character roles. Because it's time for Steven Ma at this juncture to change."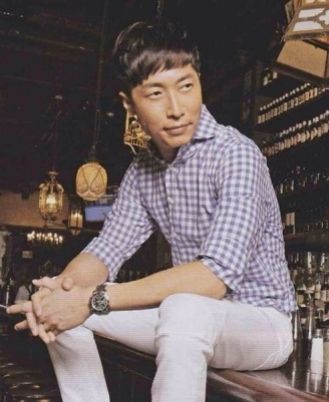 Steven has once lived in darkness. Faced with a cancer mother and faced with a sluggish career, his chosen lifestyle at the time only composed of work and care of his mother, brooking no friends and personal time in between. When his mother passed away in 1999 Steven succumbed to depression, fortunately he was finally able to get past that insidious affliction and regroup himself. After his mother's passing, Steven and his sisters took good care of their father; the father whom from young they had inadvertently neglected.
"Towards my father we have this sense of guilt; it's not that we love him less but that because my mother was chronically ill so our total energy was concentrated on her. My father knew and understood. I believe he did not blame us for it though in truth we did clearly neglect his feelings."
For this Father's Day, Steven custom made a song entitled "Father Bus" as a tribute to his retired bus driver father. On Father's Day, he and his sisters will have a family get-together meal with their father, and at that time will also watch the Father-Bus mv. Steven, more than anything else, wants to say to his father these words: "Father, I love you!" Bliss and happiness, seemingly so elusive but in actuality quite simple.
Steven has always been viewed as TVB ratings lucky star. Series led by him almost always garnered high ratings, even with the recent "TV station license turbulence" affecting tvb overall ratings, his "Storm in the Cocoon" still managed to record a peak of 36 points, firmly securing it as the highest peaked series to date. To Steven, the label, "Rating Lucky Star", carries with it both a compliment and an intangible pressure.
"I want to thank the audience for their support, and of course, also want to thank the media for giving me face; every time my series is aired they always said I'm a rating lucky star and a rating guarantee. Frankly, the pressure is there. Every time my series aired I thought to myself what if the ratings were unfavorable, what then? Good ratings are not just derived from my own effort but from the concerted effort of a team of thespians and crews. But what if the ratings were bad? The spearhead would certainly be pointed at me, and the "fairy tale would duly shatter", and of course a strike against me; but then again, it's beyond my control because favorable ratings depend on the opportune aligning of all things together, that's why what is most important for me is to do my best even if the result is bad, at least I've a clear conscience."
In the eyes of the audience, Steven is justice personified as the characters he portrayed are usually so righteous they are almost saint-like. Steven has always known that this perception of him has in part limited his roles in the past, so in recent years he purposefully strove and is striving to change his acting course. Not only grey characters are welcome but even characters evil to the core and hated by the audiences, so long the roles allow ample creativity, he would accept them all with alacrity.
"Actually I'd originally thought of rejecting "Storm in the Cocoon" because from its preliminary rough draft I thought it was another righteous character until I went to the production room to listen to the whole story. I found out that the character is actually a grey character, someone with a personal agenda and is even afflicted with ptsd, and that he can be pretty ruthless to get to his goal. That's why I accepted the series. Just for this year I think I have rejected ten or more tv series or movies because the characters were either a very righteous and upright person or an upright young man still wet behind the ears. First of all, I'm grateful that even at my age I can still get away with portraying a naive upright young man, but I truly don't wish to do that anymore.
"I hope I still have a market, to have an opportunity to change my acting route. Never mind a grey character even if an evil villain, be it a supporting character, so long it's a character with creative potential, I'll take it because I don't want to limit my acting route."
Besides his acting route, Steven's quest for change also applies to his singing career. Last year June he released a Christian hi-fi music album entitled "Cherish", which elicited good reviews and sales. Riding on its momentum, this year he will release a Cherish Volume Two music album, which he describes as a "different kind of Christian music".
"Last year's Cherish is distinctly a Christian songs hifi music album but this time for Volume Two I will use "a different kind of Christian songs music album" to describe it. Because this time my singing is more towards canto pop; the music resembles pop music but hidden within the songs are Christian analogies such as: "Father Bus" talks about father's love but it can also relate to Heavenly Father's love; "Platonic Love" talks about siblings' love; "Right Hand Doesn't Know" (右手不知道) is actually an analogy to a bible verse that I really like; it says when you use left hand to do good, no need to inform right hand of it; what it means is that when we do good deeds, don't make them into a show for others. The Heavenly Father above sees all. When I told the lyricist this story he/she came up with this song. So for this cd, if Christians, they would get the meaning behind the lyrics, for those who don't, they can treat the cd as cantopop music. I hope everybody will listen with his/her heart to discern the layered meaning in the songs."
To Steven, his late mother was certainly his all in the early part of his life. Since nine years old (sic should be 6 years old) his mother was diagnosed with cancer, from that moment onwards the whole family put taking care of mother as top priority, everything they did was done with mother in mind. All those years, Mother Ma got the whole family utmost care until 1999 when she passed away. The eve of her death she wrote a will for her children. It is only recently that Steven's older sister let him know of this will's existence; Steven was reminded once again of his mother's greatness.
"At the eve of my mother's passing she wrote her will on a piece of paper. The gist of it is to exhort us to show more concern for our father and to take care of him even more. It wasn't until 2012 that my older sister told me of this paper, and showed it me. She said she was worried I might get too upset so had hidden it from me until now. Later they asked me if we should inform father of this paper. I was strongly against it. Because taking care of father is what we should do. I don't want father feeling we take care of him just because of mother's will. Second, it's not that we brother and sisters don't love our father but that we were so used to putting our mother as our top priority, so, many a time we inadvertently neglected our father's feelings. But I believe my father understands. So this piece of paper is now kept inside a bank safe deposit box. Will treat it as a family heirloom la."
Towards his father, Steven candidly admits to a tinge of guilt, because his father is indeed a good father with few words. All these years he was the sole breadwinner; towards his children's education and faced with his beloved wife's illness, he silently bore them all without any complaints. Thus, earlier, Steven looked up Jimmy Yim and Riley Lam (林若寧) to custom make the song, "Father Bus"(爸士), and he also personally produced an accompanying mv based on his childhood memories with his father to be presented to his father as one of his Father's Day gifts.
"Basically the details in the mv are mostly memories of me with my father. Such as: his buying me a bottle of soda every day after work; I taking joyrides in his bus; what thrilled me the most was helping him to pull the cash box lever and to wait for the cash to fall into the box container. We grew up in the public housing estate. What my father most enjoys is when he has energy he returns to the old neighborhood to meet up with his old neighbors. There, he looks at our old place and reminisces of the old times living there with my mother. I know what he misses most are those times we lived in the housing estate. So, I do understand why the old folks still prefer to live in the housing estate even though their children have all grown up and are now capable of living in better areas, because their memories for most part of their lives are all inside the housing estate. You ask them to move to a new place; nicer and bigger, but so what? That place does not hold their memories, so, what's the difference to facing the four walls day in and day out?"
*************************************************
~~~magscan ~~~
2 ways to read bottom pages
enlarged pix link1
or
sinaimg large1
enlarged pix link2
or
sinaimg large2
enlarged pix link3
or
sinaimg large3
or
click on image, right click on popup image, select "open image in new tab", click (+) to magnify image
magscan credit
All_About_Steven_Ma
first posted Jun 12, 2014 4:57 pm