Steven Trivia Pursuit - unearthing old news
Singing with a mike around bodyguards can be risky for one's teeth and health!
Poor Steven! Getting hurt seems to be a day's work for him.
date:April 8, 2005
Mazai chipped teeth in concert.
马仔登台撞碎门牙
Steven Ma and Kenix Kwok held an Easter concert at Atlantic City, USA. Because their series had aired in both Canada and the US, their concert attracted a huge crowd of supporters, resulting in sold outs for both performances. The only hitch to the concert was when Mazai was hurt during his 2nd performance.

At that time, Mazai was singing Better Halves theme song. Accompanied by several security guards, he got off the stage to shake hands with the audience. Grasping the mike in his hand, he sang as the enthusiastic audience surrounded him. To protect him, one of the guards in shoving the audience away accidentally knocked the mike with his arm, causing the mike to smack against Mazai's front teeth, chipping them instantly. Mazai promptly felt an excruciating pain shooting right into him. So as not to affect his performance, he kept his cool until the end. He said: "I was in such pain that I felt woozy for a minute. I was worried that my mouth might become bloody. Luckily the roots of the teeth were not affected. So I sang through a mouth filled with blood. Even though the security guard was rough, Mazai did not blame him because it was an accident.

Afterwards, Mazai had considered going straight back to Hong Kong to see a dentist, but since he had already reserved tickets to visit NYC and to see Broadway shows, he had no choice but be a "chipped teeth leng zai" for two days. When he got done with his NYC trip, only then did he fly back to Hong Kong. Upon arrival, he immediately rushed to his good friend's dental office and though it was late at night, he had his teeth fixed immediately, thus enabling him to regain his leng zai appearance within a short period of time. He smiled wryly and said that stage performance got to be his most unforgettable experience since entering showbiz.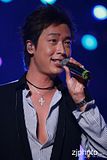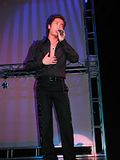 source:http://www.xici.net/b284854/d26699409.htm
===chinese==
馬浚偉登台撞崩牙
2005年04月08日
馬浚偉與郭可盈早前到美國大西洋城登台演唱,吸引大批觀眾到場支持,但在場卻發生了一段小插曲,當馬仔在台下與觀眾握手之時,保安人員一不小心將手臂撞向咪高,咪高更因此撞向馬仔的門牙,把馬仔的門牙撞崩,馬仔一直保持鎮定,直至完成表演後才檢查傷勢。
「真係痛到暈」
馬仔說:「我當時真係痛到暈得一陣陣,最怕撞到成口血,好彩只係門牙,細個已經崩,大個之後先搵牙醫用假牙套套真牙上面,假牙雖然撞碎,但係就冇傷到牙根部份。」之後馬仔還當了兩天「崩牙仔」,繼續完成紐約之旅,他苦笑說:「平日我最愛中國,但紐約呢兩日,我最怕見到反而係中國朋友。」