Over the weeks, I will rehash Steven's history taken from the assembled information stored in this fansite.
Italics are Steven's reported and actual words translated from print news, radio and tv interviews, and his memoirs, blog and weibo.
Steven's birth October 26, 1971 – In Hong Kong Pak Tin Estate 白田村 (tn:Sham Shui Po 深水埗, Kowloon and Kowloon Tong) the Ma household was celebrating a joyous occasion. Mrs. Ma, who already had three daughters, was in labor. The baby was safely delivered. He turned out to be an almost 4 kg (8.8 lbs) baby boy.The BB brought on the greatest joy to the whole Ma household, now it finally had son and daughters. That kind of joy and contentment is hard to describe in written words. This little BB whose birth brought such joy to the whole family was me, Ma Chun Wai. Ma Chun Wai is not my real name. The name my parents gave to me was Ma Chi Wai; has志气 (tn: resolve; drive; ambition; backbone; spirit; aspiration) and has great ambition and drive (雄图伟略). They hoped when I grew up I would become an upright person with his own ideals and aspirations. Parents' thinking was so incredibly grandiose -------- and this only just recently hit on me as I prepared this special column, through the introduction of my name I suddenly felt my parents' expectation of me; truly a new discovery! Even more so, I was moved by my parents' righteousness and optimism that laid out the foundation for my latter maturation years with their good seed of ideals. After my birth, mother gave birth to my younger sister. Thus, I grew up in the company of 4 females. The household with 5 children was only very bustling, but predominated as it was by girls, and girls being natural group bonders, I, as the only boy, more often than not, felt the lack of playmates immensely. Given this gender imbalance, it was up to me to find my own entertainment. Luckily, I discovered something quite early in life: I like to sing. From a young age, I joined and participated in all kinds of singing and reciting extra-curriculum activities, as long as there was music, I would be like a happy birdie singing non stop, worries vanished instantly. And so music became my childhood favorite pastime.
2002 memoir
source: baidu
******************************************************************************
~~~~~~GROWING YEARS
~~~~~~~~
Steven is of Chao Zhao ethnicity, his ancestry hometown is Shantou city 汕头市 in Chaozhou prefecture, Guangdong. He often refers himself as a very a traditional chauvinistic Chew Chow man. Because his family were very poor Steven grew up in Hong Kong public housing. (see videos below) His father was the No:9 public bus driver and the sole breadwinner for his family of seven. Steven's mother was the typical traditional Hong Kong homemaker, all very grassroots.
In the video clips below, Steven hosted TVB variety program about Hong Kong thru the years. Steven's section is about HK housing in the 60s-70s period. In videos below Steven introduces the environ where he spent much of his growing years in Bak Tin Estate. He used to live in similar apartment behind those multi colored buildings he points at. Those blue buildings that are more modern looking are the newer ones. Living in the estates is very convenient to the residents because there are lots of shops and restaurants below them. Steven points out the odd looking pipes jutting out of the buildings, which as far as he knows, served no purpose except causing inordinate inconveniences for the apartment residents, besides being loopholes for ants invasions into living spaces.
In above vids, Steven points out that he and family used to live in one of the multi-color public housing apartments in Bak Tin Estate. Both his primary school (Bak Tin Catholic Primary School白田天主教小学) and high school (C.M.A.Secondary School 廠商會中學校 in Shek Kip Mei,石硤尾) were located in the same vicinity bordering , therefore he pretty much had no need to venture outside his Bak Tin Estate community.
Before Bak Tin, he lived in 7 storied building (vid 3)
Before Steven lived in Bak Tin Estate, he lived in one of those 7-story buildings in Shek Kip Mei (石硤尾), not those building in front of him but further down. At his time, the 7-story buildings were not as nice looking as these are nowadays. (vid3) Their construction was cruder and more basic, like there was no independent bathrooms for each household. Inside an area used as kitchen, wherever there was a water pipe with a faucet, that would be the spot to take showers and wash the hair. Washing hair for Steven and family was a simple task - rubbed the bath soap all over the hair, and over their bodies, rinsed off and that's it. It was only when they moved to Bak Tin Estate and Steven was in elementary school that they began using shampoo to wash their hair.
In his old Bak Tin Estate his apartment was about the same square footage of the one shown in vid 4 - about 300 sq ft. But the layout was slightly different. His father used plywood siding to separate the room into 3 smaller ones for parents and sisters. Steven slept on a sofa in the living room where he watched tv until he fell asleep. The space was indeed very tight for a family of seven but at the same time quite cozy and harmonious. (vid 4)
video :
the complete HK Nostalgia光影流情 Ⅱ ep4
.
NEIGHBORHOOD ENVIRONMENT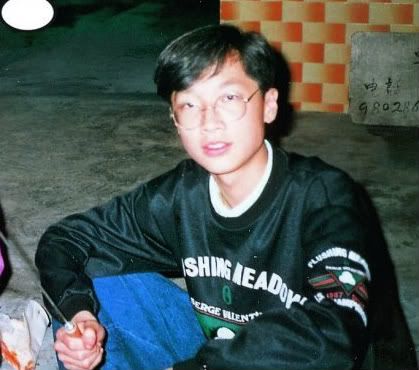 Steven grew up in the poor Sham Shui Po neighborhood where gangsters and drifters were part of its daily street scenes. From young, he was used to seeing discarded used syringes on the back staircase in their building. In the back alleys, the most common sight was the presence of loitering hooligans and prostitutes. Steven has never concealed his humble origin. Maybe to overcome self-inferiority is to face it head on. Despite his background, Steven did not turn bad instead, many a time, he managed to pull back friends from a wrong turn just at the precipitous moment.
" Sure, youths squatting by the roadside are an eyesore, but surprisingly, squatting is really quite comfortable. And if one chooses to shoot the breeze with some buddies, it can be quite fun if one does not have to go to work or school tomorrow morning. Steven, who has had such experiences squatting with a group of youths by the roadside, can easily relate to the book's concept, which is why he recommends empathy when dealing with youths." empathize youths
S:
I grew up in a place, don't know if you've heard of it; in Hong Kong, there's this place called Sham Shui Po. I grew up there. It's a chaotic place, all kinds of people lived there. When young, we lived in this public housing. My family of seven resided in this tiny living quarters. It didn't even have a bathroom. We had to use the common bathroom outside the hallway by the staircase. The building housed eighty households, and four bathrooms which residents took turns using. So during that period, I was exposed to all kinds of unpleasantness, but why didn't I turn bad? Because it had a lot to do with how my parents brought my sisters and myself up. acting not my goal, helping people is
"
In the past, I was often looked down by people, so I wanted to prove my ability. (to publish books) I still remember that time not long after I entered the industry, a friend sent me home. At first, she thought I lived in Kowloon Tong, but when she found out that I lived in Sham Shui Po, she immediately locked all her car doors. She looked disgusted. I thought to myself, "Was that necessary?" Even though Sham Shui Po may be a ghetto, it's not representative of its people.
"
fresh milk + no miracles for SM
"I admit, because of my family's poverty, I was often looked down upon. I did not feel secure and also minded people's condescension. But now, I am enlightened. (tai tong) I won't let it bother me anymore."
Despite growing up in poverty, Steven has a cultured look; there's an air of gentility to him. When he first broke into the entertainment scene, he was often perceived as someone of a privileged and wealthy background, thus, he was often asked from which overseas university did he graduate from.
"During my early days in entertainment, (as in acting) everybody took me to be an overseas graduate from a rich family. What can I say,that's just my appearance. For the longest time, I didn't appreciate it at all on how people perceived me, I felt that it would constraint my versatility growth as an actor,"
says Steven.
SM - the new sinai killer; no miracles for SM
"When I was young, I felt very grown-up. And liked to act grown-up. Sometimes would drink with schoolmates. The only time I got drunk was when I was in middle school. Went to the park to guzzle beer with schoolmates. Only remembered drinking nonstop and woke up drunk on a street. Around 5 in the morning when I heard the traffic noise and people, only then did I collect my wits enough to go home.
FAMILY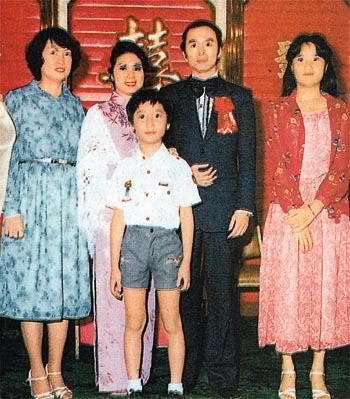 Steven's family background might be underprivileged, but his upbringing was excellent. Father worked day and night to provide for his wife and children. His wife was a chronic nose cancer patient and he did his best to take care of her, sticking with her through thick and thin. Mother was strong and gentle. They were a good couple. Besides being affectionate to each other, they were also fair to their children. Every child in the family was treated like a precious gem. But because Steven was the only nam ting (boy) and because being a traditional Chew Chao family, the 'ting' naturally engendered him special treatment.
His four sisters, they all love to take care of him. When little brother had just finished his bowl of wonton noodle soup, the empty bowl would vanish in the blink of an eye; turned out that his 3rd elder sister had already taken it to the kitchen for washing. When heard he was sick, 2nd elder sister who was a nurse, and despite being married already, would in the shortest amount of time pay a nurse visit to check up on her little brother.
But the undefeated got to be 5th sibling, Steven's younger sister. "4th young master" would often praise how pretty his little sister was, and how preciously he treated her. Actually, his little sister worships him like an idol. "Among the men, my brother is the best. I want to find a husband just like him." Her utmost adulation of her brother has no problem anointing her as his first, and utmost ardent fan. (tn: At one time the youngest sister wanted to enter the Miss HK pageant but Steven vetoed that notion of hers citing the dark side of the entertainment world as the reason.)
Because he so loves the newborns' relatives (his sisters), this uncle (Steven), despite having only 2 hours of sleep during the OTTOO production period, would forfeit his resting period to rush to a baby store to buy disposable diapers for his sisters. Did they really need to trouble this "sei xiu" (4th young master) for diapers? Obviously, it was just Steven's personal choice. And thus,this reporter got to witness a diaper extraordinaire scene.
undaunted courage
Steven has 3 elder sisters and a younger one. When he was younger, he was like the male lead in the Chambers of Red Dreams, being doted on by his sisters for his 'cuteness'. Growing up amongst females, Steven appeared shy and quiet. He was in a boys school until Secondary 4. He got to know his first love through a friend.
retrospection
One of Steven's brother in law is a physical therapist and another is a hairdresser who shaved Steven's head for Ghost Writer.
before he left for mainland to film Legend of Yuan Empire Founder.
S:
From the onset of the disease to death all these years I could only help mother to invite gung yam (Goddess of Mercy) into the house to protect her. Towards my sisters, I have the duty to protect them. Besides my father, my home is filled with females. So I feel I especially need to exude a man's conduct even towards a woman who once betrayed me. "
MOTHER
Steven was 6 years old when his mother was diagnosed with nose cancer in 1977 to which she finally succumbed to in 1999 after a 22- year battle with it. Whenever Steven felt grieved, just hearing his mother said: "My Wai Zai hou guai! Hou guai zai ga! (good person) A word is worth 10 thousand gold ingots. His mother was his most trusty reinforcement. To Steven who had encountered all kinds of situations having grown up in a public housing environment, her words were like a stimulant shot; taking a deep breath and bracing himself he once again was ready to charge to the frontline. Familial love was what sustained him through life's vicissitudes. He knows the meaning of appreciation, but more so, he knows the meaning of giving back. Their financial situation finally improved, however, mother's illness relapsed, which greatly terrified and tormented him mentally. In 1999, Ma mama's illness worsened, today dismissed from hospital, tomorrow re-admitted. If she was away from home, Steven's soul fled in tow.
undaunted courage
"
But she had never complained, and never gave up."
His mother was a thin and fragile woman, but to Steven, she seemed like a giant. This wounded giant became his role model.
what time over there?
Only when he was a middle school student did he truly realize the scope of his mother's pains. However, the more he empathized, the more helpless he felt. When sadness overwhelmed him, he would hide himself at a corner in his school, and cried. After which he would dry off his tears, and went home with a happy face. He did not want to add to his mother's worries with his sadness.
Through the years he had watched his beloved mother's life wasting away before his very eyes. As the only son in the family, Ma Zai felt powerless to do anything.
From the onset of the disease to death all these years I could only help mother to invite gung yam (Goddess of Mercy) into the house to protect her. Towards my sisters, I have the duty to protect them. Besides my father, my home is filled with females.
When his mother's cancer relapsed, Steven had just started his singing career. He vowed to give his mother a better life. He bought a luxury home at Ho Man Tin (何文田), and had his parents moved from a public housing single unit to a 1000 over square feet luxury home. He purchased the new home in July1999, but in the same month on the 21st, his mother passed away.
mom was so young then
FATHER
"Real" man? How to be one? Perhaps my father's influence on me is truly too strong! My father was a public transportation bus driver of 30 odd years. Since young till now, I have honestly never heard my father gripe about anything at all, or seen him displayed any nervousness or fear before me. Even when Mother passed away, he was calm. His conduct and demeanor had always made us feel calm and secure, that father was always there to take care of things. Until that one day,the day I'll always remember; the day of my mother's funeral service. I distinctly remember that very minute when the coffin was about to be sealed, Father finally broke down in tears! At that time, my whole family, the relatives and good friends, all sobbed uncontrollably...except me, I didn't dare to cry! Didn't dare? Hardly an exaggeration! Honestly, when even the master of the house could not hold back manly tears, which over the years I had never witnessed before, as the newly appointed man of the house, how could I dare cry? Perhaps, you'll laugh to think I over exaggerated, or that I over dramatized, but that was truly my irrefutable feelings of that moment, henceforth, forever imprinted indelibly in my heart! yahoo blog bear it
"During those years, I saw my father wholeheartedly taking care of my mother. I observed what an affectionate relationship was like. Recalling them, I believe there is such thing as everlasting, true love. I believe that happy and fulfilling marriages do exist."
what time over there?
When I was young my father always said this: "We Chew Chow people have a saying, rather others wronged us than we wronged them, especially towards women." I don't wish to hear bashing of woman coming out of my mouth."
Read more:
pix 5-year-old SM and dad
2009 Father's Day
book - soup
SCHOOL
Steven's worst subject at school was mathematics, which he simply hated because he was so bad at it. No matter how much he tried, he just could not get it, especially fractions. But he had a natural flair for fine arts, and he was pretty good in the Chinese language subject.vid - 心灵加油站-马浚伟 ; link
16 years old
To lessen his father's burden, Steven turned down his school offer to study designs in the science and engineering dept upon his high school graduation."I was 16 and a half when I joined Long Man (朗文) publishing house as a clerk."
He loves to draw; after graduating high school, he had the opportunity to enter an arts school for further study thus realizing his dream of being an artist. However, his family really could not afford the HK$7000 school fees for his training. "No problem! I can self-study." Instead he stepped into society to diligently earn money to help out his family. No doubt it was hard work, but he did it with a willing heart. While at Form 3 (Grade 9), he was simultaneously attending school, and selling ice cream to earn money. Right after he finished Form 5 (Grade 11), he joined a publishing company, Longman, selling text books. what time over there?
Suddenly wafted the opening tune of a very familiar old song. Oh yeah, it is called "Perhaps not fated". It was a song I listened often to when I was a 9th grader selling ice-cream. At that time, I worked in an ice-cream parlor in Causeway Bay from six pm to midnight daily. Every night, I would play this song not just once, but repeatedly. "也许无缘流泪在眼前没说半句话别早已飘远" My ice-cream parlor's co-workers asked me why I loved this song so. I said I love its melancholy, that sense of helplessness. As my co-workers were much older than me, they chuckled and said, "Only a 9th grader student, what do you know of sorrows? Or of hardship? Haha!book - young angst
source:马浚伟怀念卖雪糕的日子
His beginning was humble, but through hard work, he was able to surmount the social stratum. Since his formal schooling is limited, he has for the past years enrolled in a university taking up Chinese culture & history courses as independent study.what time over there?

Since young, my parents had shown 100% confidence in me. I made all decisions on my own without first having to consult my family, once my mind was made up, I would follow through; I believe I could handle anything on my own. "Whatever you do, do it well and do it to the best of your ability," that's my motto. …I'm the kind of person who likes to introspect. Ever since young, be it encountering defeat or rejoicing a happy event, I would quietly contemplate the causes behind each occurrence.2001 memoir

End of this introductory chapter of Steven's early life.
Read 2002 memoir on how Steven entered the entertainment industry

eta 2/14/2015
今天 13:14